ingredients
for the batter

butter, melted

1/2 cup

White sugar

1 cup

• 392 kcal

All-purpose flour

1 cup

Baking powder

1 1/2 tsp

• 156 kcal

Salt

1/2 tsp

• 1 kcal

Milk

1 cup

• 49 kcal

for the strawberries

fresh strawberries, washed, dried, hulled and halved

2 pounds

White sugar

1/2 cup

• 392 kcal

Cornstarch

2 tbsp

• 338 kcal

Lemon juice

2 tsp
Calories refers to 100 gr of product
Deliciously sweet with the perfect amount of tartness, strawberry cobbler is a fantastic Southern dessert with a crisp top and delectable strawberries packed into every bite. It's similar to the classic peach cobbler but is made with beautiful ripe strawberries, as well as your standard cobbler ingredients like flour, sugar, and milk. You'll wow your guests with this simple yet elegant dessert. Homemade fresh strawberry cobbler makes a wonderful homemade treat to serve at picnics, parties, or with tea.
Strawberry Cobbler Ingredients
The secret to the best-tasting strawberry cobbler is to use fresh strawberries. This is a fairly sweet dessert, so you may find you'll need to adjust the amount of sugar depending on your personal preferences. Either brown or white sugar works well in this recipe, but when it comes to the strawberry cobbler topping, you'll definitely want to use turbinado sugar. This raw brown sugar is coarse and helps add a bit of crunch to your cobbler. The remaining ingredients are pantry staples you probably already have on hand – flour, baking powder, butter, and salt.
How to Make Fresh Strawberry Cobbler
This gorgeous dessert may look tricky to make, but baking a fresh strawberry cobbler is surprisingly easy. Preheat your oven and grease up a cast-iron skillet. Prepare your batter by whisking flour, sugar, baking powder, salt, and milk together in a bowl. Pour your batter into the skillet.
Now it's time to prep the strawberries. Toss your fresh berries with sugar, cornstarch, and lemon juice, then spoon them across the top of the batter. Bake your cobbler for 45 minutes, then take it out of the oven so you can sprinkle it generously with turbinado sugar. Then pop it back into the oven for another 10 to 15 to let it brown. See? Couldn't be easier!
Tips for Making the Best Homemade Strawberry Cobbler
– Fresh in-season strawberries always taste better than frozen and will prevent your cobbler from becoming mushy.
– To make a double crust cobbler, pop pie pastry over the top of the strawberries, brush it with milk or an egg wash and bake. If it's browning too quickly, you can cover the skillet with foil for the last 15 minutes or so of baking.
– Make your homemade cobbler heartier and healthier by adding oats. Combine old-fashioned oats, sugar, flour, butter, and cinnamon in a bowl then sprinkle it over the top of the strawberries. Garnish with turbinado sugar for extra crunch.
– If you're in a rush, you can substitute Bisquick for the batter. Follow the directions on the box, then pour the Bisquick batter into the skillet. Add the strawberry mixture and bake as per the recipe.
– For a creamier, more moist cobbler, use cream cheese. Cut the cream cheese into cubes and spread it evenly among the strawberries before baking.
How to Store Strawberry Cobbler
To keep your leftover cobbler tasting its best, wrap it tightly and keep it at room temperature for 2 to 3 days. It'll last up to 5 days in the fridge in an airtight container.
Instructions 
Preheat your oven to 350°F and lightly grease a cast-iron skillet with cooking spray.
Whisk sugar, flour, baking powder, salt, and milk together in a large bowl. Gradually stir in the melted butter.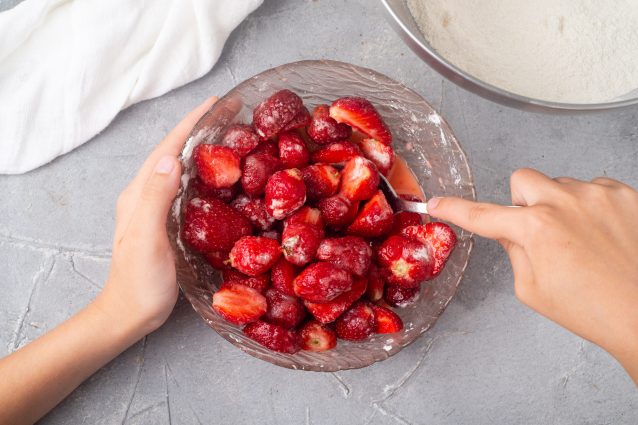 In a separate bowl, combine strawberries, sugar, cornstarch, and lemon juice, tossing to coat.
Transfer the batter to the skillet and spread the strawberries over it.
Place the skillet in the oven and bake for 45 minutes.
Remove the skillet from the oven.
Sprinkle turbinado sugar over the cobbler, then bake for another 10 to 15 minutes or until golden brown. Remove from the oven and let cool slightly before serving.
Notes
Serve your strawberry cobbler with whipped cream or ice cream an even sweeter treat.