ingredients
Milk

500ml

• 49 kcal

vanilla custard powder

2 tbsps

sugar, for custard

4 tsps

Fresh strawberries

200g, top removed

White sugar

2 tbsps

• 392 kcal

pound cake

150g

vanilla cake, cut in to small cubes

2 cups

sherry

150ml, or any other wine of your choice

canned pineapple

2 slices, cubed

Heavy Cream

100ml

large mango

1, peeled and cubed

Apple

1 large, diced
Calories refers to 100 gr of product
This recipe is a riot of fresh fruity flavors and to a hard core sweet eater, is medicinal. You will just love the way this dish looks on the dinner table with such bright and appealing colors.
A perfect dish to prepare with left over dry cake (in the most unlikely case of you getting tired of eating it) and all the tropical fruits available in your kitchen.
You may or may not add whipped cream to the custard as per your preference. Just stock your fruits well to enjoy this ultimate fresh fruit dessert!
Instructions
Mix the custard powder with 2 tablespoons or more of cold milk until smooth and no lumps are present. Boil the remaining milk with 4 teaspoons of sugar. Lower the flame and pour the custard mixture slowly in to the boiling milk while stirring the mixture continuously.
Cook the custard until it is smooth and slightly thick in consistency. Turn off the heat and cool the custard to room temperature while stirring intermittently so that no lumps are present. Meanwhile, whip the heavy cream until it is soft peak.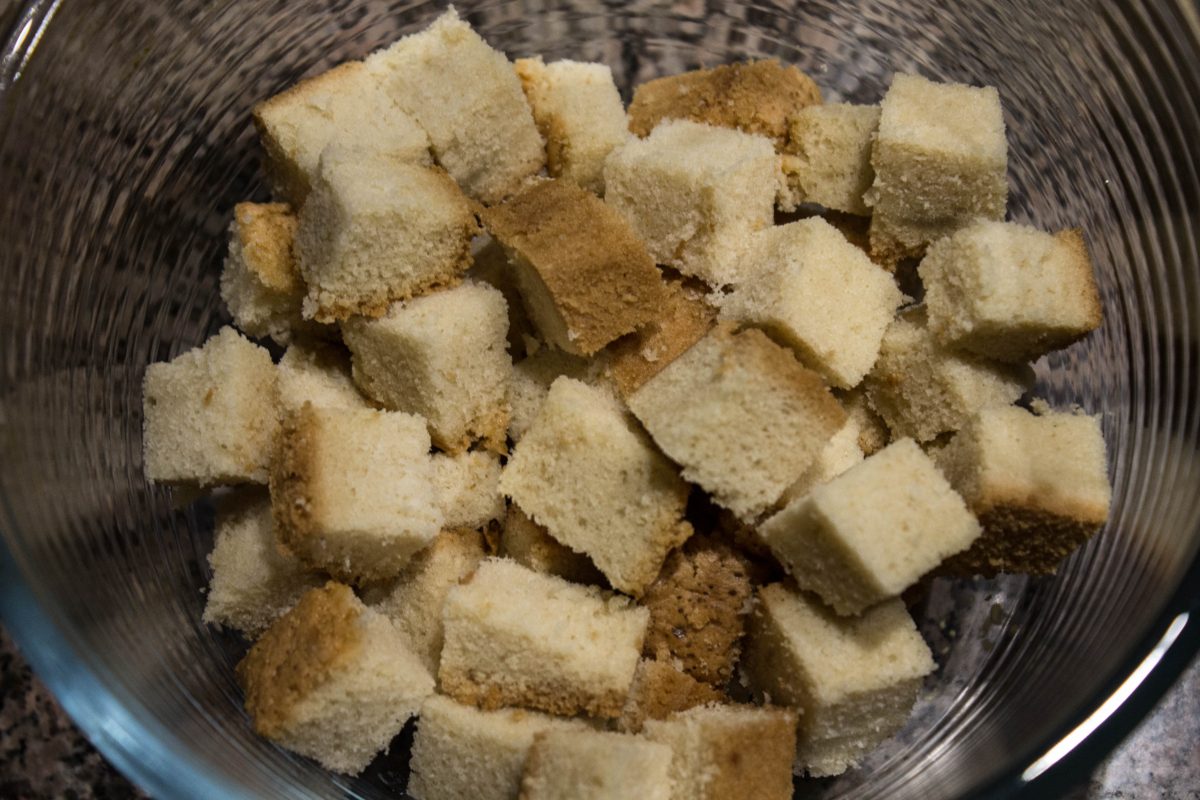 Fold the whipped cream in to the cooled custard, cover and keep it in the refrigerator. In a blender jar, add fresh strawberries and process it well with two tablespoons of white sugar until smooth and nicely blended. Place the cake cubes in to the large serving bowl.
Evenly pour the sherry and strawberry puree over the dry cake cubes. Evenly place the pineapple cubes over the strawberry layered cake layer. Pour the custard mixture over the pineapple layer and smoothen it a little from the top.
Randomly layer the mango and apple cubes over the custard layer.
Cover the pudding with a plastic wrap or cling film and chill it for about 30 minutes. Garnish with a mint sprig, serve and enjoy!
Tips
To make this recipe short, you may use market bought dry vanilla cake/ pound cake or bake any cake of your preference yourself. This dish tastes best when served chilled.
Nutritional information (per serving): 164 Calories, 6.6g Total fat (3.1g Saturated fat, 0.5g Polyunsaturated fat, 2.6g Monounsaturated fat), 23.6mg Cholesterol, 85.9mg Sodium, 203.8mg Potassium, 23.8g Total carbohydrates (1.6g Dietary fiber, 13.6g Sugars), 3g Protein