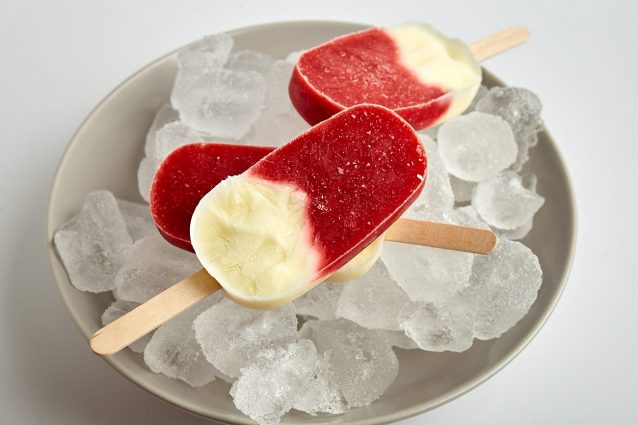 ingredients
Granulated sugar

1/2 cup

Water

1/2 cup

Strawberries

1 pound (4 cups) ripe, hulled and cut in half

Lemon juice

1 tablespoon

vanilla yogurt

1 cup plain, or Greek yogurt

Popsicle molds
What could be better than a refreshing strawberry and yogurt popsicle on a hot day?
Made with lots of fresh strawberries and creamy yogurt, these treats are a healthy indulgence, and one that your family and friends will constantly ask you to make.
INSTRUCTIONS
Make the syrup:
In a small saucepan over medium heat, add the sugar and water and stir together. Bring the mixture to a boil, and stir until sugar is dissolved.
Chill until cold, or put the pot in a large bowl of ice to cool.
This will make about 3/4 cup syrup, but it won't all be used for this recipe. The leftover syrup can be kept in the fridge for several weeks.
In a blender or food processor, add the strawberries, lemon juice, and 3 tablespoons of the syrup and blend until smooth.  Taste and add more syrup to the mixture if you like. Transfer it to a measuring cup or bowl.
In another bowl, whisk the yogurt to smooth out any lumps. If you prefer sweetened yogurt, add honey or some syrup to taste.
Fill the molds by adding about 1 tablespoon of fruit puree and then 1 tablespoon of yogurt. Continue alternating the yogurt and berries until the molds are filled to around 1/4-inch from the top to allow expansion for freezing.
Use a skewer or a chopstick, swirl the yogurt and fruit puree together in the molds, or leave them as half strawberry, half yogurt.
Freeze for 1 hour, then remove the mold from the freezer and insert the popsicle sticks, leaving about 2 inches of each stick outside the mold. Return them to the freezer for another 3 to 4 hours, or until they are fully frozen.
To remove from the mold, dip the bottom and sides of the mold carefully in a container of hot water, and hold just long enough to slightly defrost the popsicles so they release from the mold easily.
Notes:
These popsicles contain more strawberry than yogurt – if you'd like more equal amounts of strawberry and yogurt, increase the amount of yogurt to 1 1/2 cups.
You may end up with leftover strawberry puree depending on the size of your molds. The puree can be kept in the fridge for up to 5 days, or frozen for up to 3 months. Use it for future popsicles or stir into plain yogurt for a delicious breakfast.