ingredients
fresh leeks

2

Ground beef

400 g (1 lb)

Cherry tomatoes

6 to 8

capers in brine

1 tbsp

Parmesan cheese

5 to 6 tbsp

Egg

1

• 130 kcal

salt and pepper to taste

• 1 kcal

Extra virgin olive oil

5 tbsp
Calories refers to 100 gr of product
These stuffed leeks are an easy and tasty recipe that serves double duty as either a side dish or an appetizer. Baked until golden and caramelized, the leeks become rich in flavor, with just the slightest bit of crunchy texture.
With a few simple ingredients like leeks, beef, capers, and parmesan cheese, you can easily make this dish in a matter of minutes—perfect for times you have unexpected guests!
It's a great recipe to customize as you like, so make sure to check out our suggestions below, you can even make it vegetarian! With a little effort, you can make a delicious, impressive appetizer, it might just become your new favorite!
Stuffed Leek Ingredients
Fresh leeks – look for the largest leeks you can find!
Ground beef – you can also use any other type of ground meat
Cherry tomatoes – cherry tomatoes have the freshest flavor.
How To Make Stuffed Leeks
Cut large leeks into pieces of about 4 inches. Empty each leek tube, by pressing out the inner layers, making sure to leave the outer two behind. Chop up the inner pieces and cook them with the remaining ingredients.
Fill the leeks with this mixture and bake until golden. Sprinkle with parmesan cheese and fresh herbs before serving.
Tips
We used ground beef in this recipe, but you can also use ground chicken, ground turkey, or smoked salmon.
To stretch the filling (especially if you're making this for a large group of people), you can add other ingredients like chopped potato, chopped mushrooms, chopped tomato, diced bell peppers, corn, fresh chilies, or shredded carrot.  Cooked riced will also add more carbohydrates.
If you love cheese, then why not add more? Add Swiss, Gruyere, Feta cheese, or mozzarella.
Turn this into a creamy bake by pouring ½ cup cream and ¼ cup white wine over the top of the stuffed leeks and bake until golden.
How To Store Stuffed Leeks
Store leftover Stuffed Leeks in an airtight container in the fridge for up to 5 days. Reheat in the microwave before serving. If you want them more crispy, bake them in the oven for a few minutes.
Instructions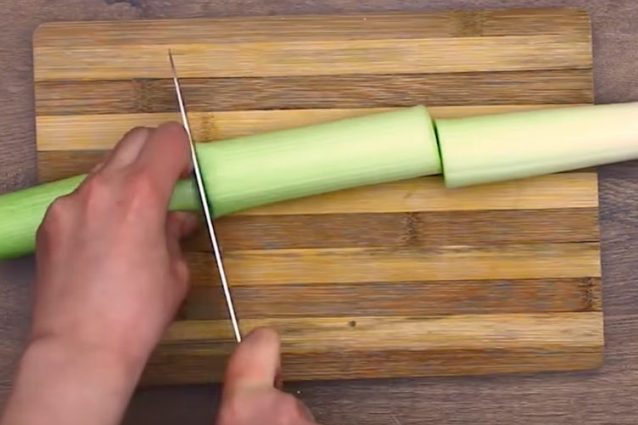 Cut the leeks into 10-cm (approx. 4-inches) pieces.
Empty each tube, pressing with fingers, leaving a thickness of two outer leaves.
Finely chop the whole portion of leeks removed from the tubes.
Fry chopped leeks in a pan with olive oil.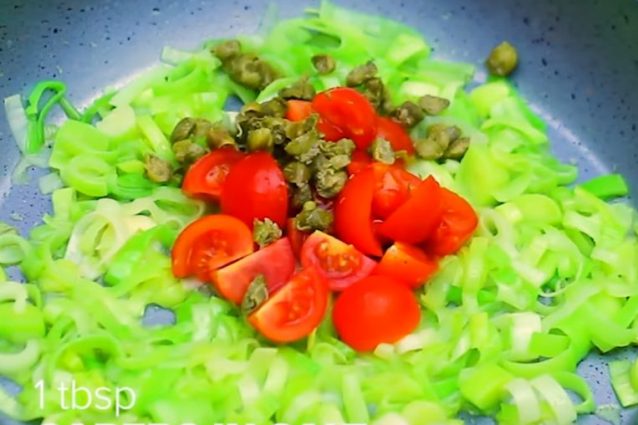 Then add the chopped tomatoes and the chopped capers and sauté for 2 minutes.
Add the minced meat and cook for 5 minutes, stirring occasionally.
Sprinkle the grated cheese, add salt and pepper and turn off the heat.
Add the egg and mix well.
Now, carefully fill the leeks with the mixture.
Place the stuffed leeks in an ovenproof dish and pour half a glass of water into it.
Bake in the oven at 180°C for 20-30 minutes.
Notes
Use large leeks for this recipe! Small leeks will be too hard to fill.