ingredients
Unsalted butter

1 cup, softened

Granulated sugar

¾ cup

Egg

1, large, room temperature

• 130 kcal

Vanilla Extract

1 teaspoon

Almond extract

1 teaspoon

Salt

½ teaspoon

• 1 kcal

All-purpose flour

2 ¼ cups
Calories refers to 100 gr of product
Spritz cookies are a traditional holiday cookie that are commonly decorated with colored icing and finished with toppings like sprinkles. They're buttery and sweet, like shortbread and sugar cookies, and can be shaped into fun designs like stars, flowers, Christmas trees, and snowflakes. A spritz cookie is shaped and laid out on a sheet using a cookie press, which pushes or squirts individual cookies through a tube, using a trigger. The word spritz in fact comes from the German word spritzen, which means "to squirt" (hence the function and name of a spritz cookie press).
What is the best spritz cookie press?
Though spritz cookies can be made without one, a cookie press is a simple and easy way to make the fun-shaped treats quickly. These types of tools have been used for several decades but the modern versions include several different cookie plates to use in any shape for any occasion! If you don't have a cookie press, simply fill a pastry bag with a star or other designed tip with the dough and squirt it out.
How to make perfect classic Spritz Cookies
Make the cookie dough
Beat softened butter and sugar in a large bowl until smooth.
Add the egg and vanilla and almond extracts and beat on high for one more minute. Add dry ingredients on low speed, then increase to high until combined.
Color the dough
One or two drops of food coloring per half batch of dough will generally do the trick. It is easy to continue adding more and mixing and folding the dough until it reaches a desired color.
Add your dough to a cookie press
Follow the directions that come with your cookie press to set it up. Scoop your dough into the press and hold it perpendicular to a parchment-lined baking sheet, pressing out cookies about 2 inches apart.
Bake spritz cookies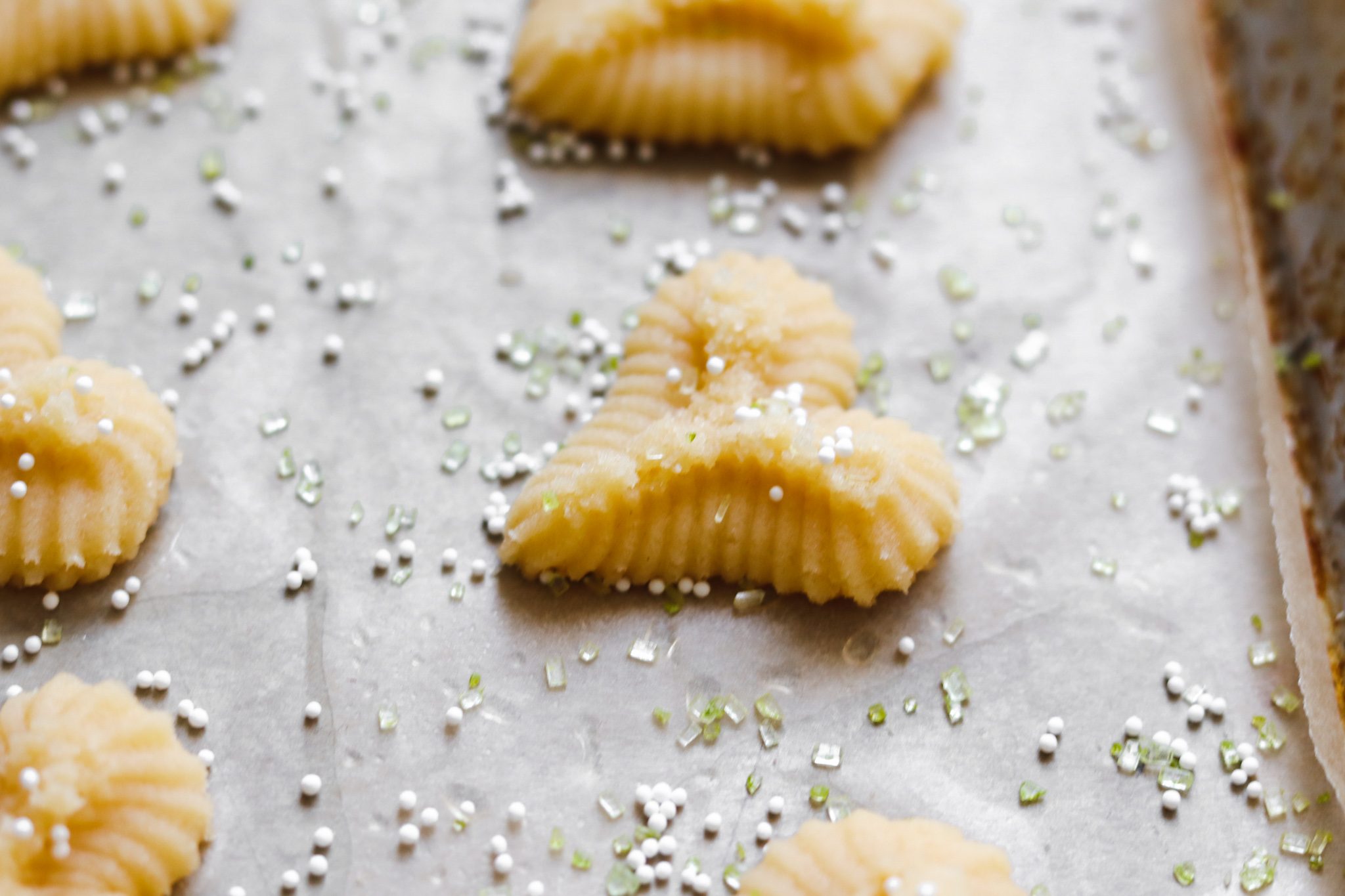 In an oven preheated to 350°F, bake cookies on baking sheet until golden brown, 6 to 8 minutes. Allow cookies to cool completely before handling and decorating.
How to decorate spritz cookies 
After spritz cookies are cooled, get creative! Use your favorite icing recipe to decorate shaped cookies with designs and sprinkle toppings like sprinkles generously. With colored cookie dough, plain royal icing is a nice simple touch.
Can you freeze Spritz Cookie dough?
This dough can be made ahead of time and stored in the freezer for about three months. Before baking, simply thaw in the refrigerator and then bring to room temperature before pressing and baking the dough. The baked cookies can also be frozen for about three months — Just thaw before enjoying.
Instructions
Preheat the oven to 350°F and line two large cookie sheets with parchment paper.
With a handheld mixer or stand mixer with a paddle attachment in a large bowl, beat softened butter and sugar on medium for about 2 minutes, until smooth. Add the egg and vanilla and almond extracts and beat on high for one more minute. Scrap sides as you go along to continue combing well.
Add flour and salt and beat on low speed. Turn up to high and beat until fully combined.
Scoop the dough into the cookie press, following instructions on inserting shaped plates and pressing cookies. Hold the press perpendicular to the cookie sheet and press out cookies about 2 inches apart.
Bake shaped cookies in the prepared oven for 6 to 8 minutes, until lightly golden brown.
Remove from the oven and allow to cool completely before decorating.
Notes
Food coloring is optional and doesn't change the final taste. However, be sure to keep a close eye on your different colored cookies as to not overbake. They won't be golden brown in this case, but still stiff and slightly brown or tan on the edges.
Almond and vanilla extract can be added without the other, or more or less of each. Adjust to your own preferences, but don't omit!
If dough softens while working, chill for about 10 minutes before baking.