ingredients
Shortcrust pastry

1 disc

Broccoli

500 grams

Leek

1

Mozzarella cheese morsels

200 grams

Egg

1

• 130 kcal

Salted ricotta cheese

as much as is needed

Extra virgin olive oil

as much as is needed

Fresh sage

a few leaves

Natural yogurt

1-2 tablespoons

Salt

as much as is needed

• 1 kcal

Pepper

as much as is needed
Calories refers to 100 gr of product
The savory pie with broccoli, leeks and mozzarella cheese is a simple savory pie to prepare and its success is guaranteed. A shell of fragrant shortcrust pastry contains a delicious filling based on seasonal vegetables, stringy cheese and yogurt, which will give the preparation softness and a pleasant and delicate sour note. A very easy and quick recipe, especially if you use the shortcrust pastry bought at the supermarket, also suitable for beginners in the kitchen. So let's find out how to prepare it by following all our tips step by step and serve it, cut into not too large cubes, for a snack with friends or as an appetizer of a buffet dinner. Tasted in larger portions and accompanied with a salad or other side dish, it can also represent a complete and balanced single dish, to take with you even for the lunch break in the office.
How to prepare the savory pie with broccoli, leeks and mozzarella cheese
Clean and wash the vegetables, then cut out the broccoli florets and thinly slice the leeks (1).
Dip the broccoli florets into boiling salted water and boil for 10-15 minutes (2). Drain and set aside.
In a non-stick pan, heat 2 tablespoons of oil, add the leeks and brown them (3).
Add the boiled broccoli florets (4), add salt and pepper and let flavor for a few minutes.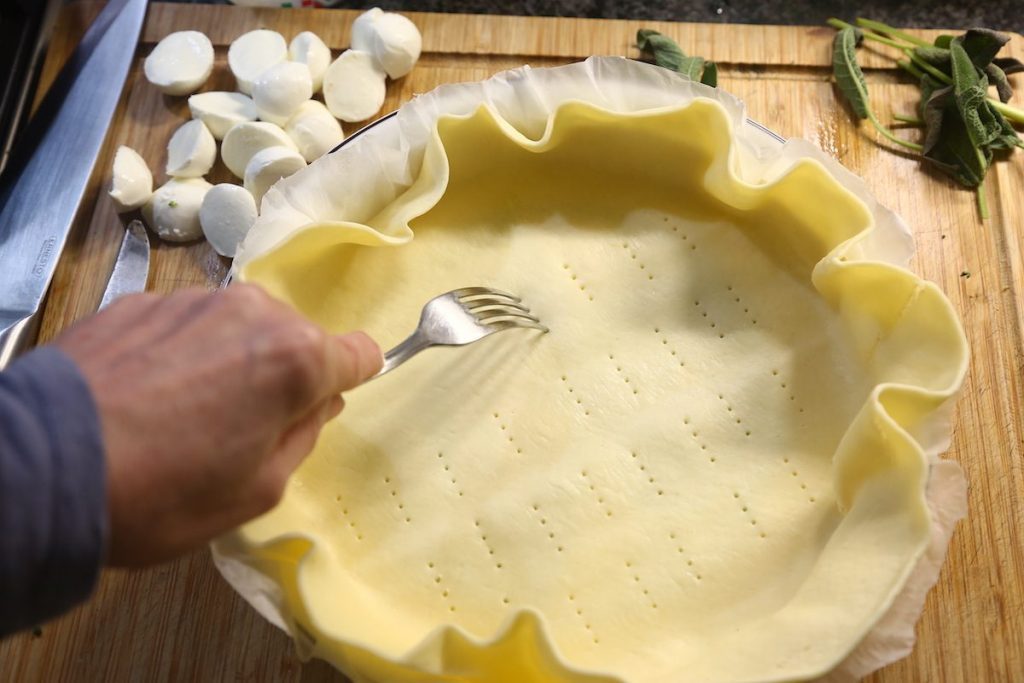 Roll out the shortcrust pastry in a pan and prick the base with the prongs of a fork (5).
Pour the vegetables into a bowl, add the egg and a little grated salted ricotta cheese, mixing well (6).
Add some chopped sage leaves and yogurt (7) and mix perfectly.
Pour the mixture into the shortcrust pastry, add the mozzarella cheese morsels, cut in half, and then sprinkle the surface of the savory pie with more grated salted ricotta cheese (8). Drizzle with oil and bake at 180 degrees C for about 20 minutes.
After the cooking time will be elapsed, take the savory pie out of the oven, turn it out of the mold and serve it hot (9).
How to store pie with briccoli, leeks and mozzarella cheese
It is advisable to enjoy this freshly baked savory pie with broccoli, leeks and mozzarella cheese when it is still hot and fragrant, or at the latest the next day. You can preserve it in the refrigerator in an airtight container and then heat it back in the oven before serving.