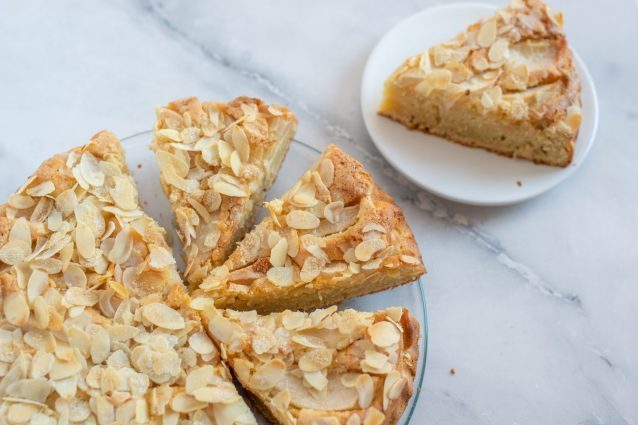 ingredients
Already peeled almonds

200 grams

Powdered sugar

150 grams (1 cup and ¼)

Eggs

4

• 130 kcal

Corn starch

20 grams

Limoncello

20 ml

Baking powder for cakes

1 sachet

Cream of tartar

1 sachet

Powdered sugar to garnish

as much as is needed

sliced almonds

as much as is needed
Calories refers to 100 gr of product
The rose cake is a typical Apulian dessert made with almonds, a cake originating from Toritto, a small town near the charming village of Altamura in the province of Bari. Also called almond cake, it is a simple and very soft dessert, handed down from generation to generation, with a moist and fragrant dough, prepared without flour, oil or butter and without yeast. An excellent dessert for breakfast or a snack to be dipped in hot milk or to be enjoyed with a cup of tea. For the success of the cake you just need to follow a few simple steps and use quality ingredients, such as good almonds, doughy and with an intense flavor, ideal for use in pastry. But let's see how to prepare a soft and irresistible rose cake.
How to prepare the rose almond cake
Blend the almonds in a mixer very finely with a spoonful of sugar. Separate the egg yolks from the egg whites. Beat the egg whites until stiff with the cream of tartar. Whip the egg yolks as well and, as soon as the egg whites are well whipped, add them to the egg yolks and continue to whisk at a lower speed. Add the powdered sugar, baking powder and sifted starch and mix with a spatula with movements from the bottom up, to avoid breaking the mixture.
Add the chopped almonds a little at a time, always mixing gently, add also the limoncello and the grated lemon zest. Pour the mixture into a 24 cm diameter mold lined with parchment paper and bake in a preheated oven at 180 degrees C for about 35 minutes. Once ready, let it cool. Before serving, sprinkle with powdered sugar and decorate with whole or sliced ​​almonds. Your rose almond cake is ready to be enjoyed.
Preservation
You can preserve the rose almond cake for 3-4 days under a glass bell jar or inside an airtight container.