ingredients
Large potato

1, boiled and peeled

Tuna

100g canned or fresh, drained

Zucchini

1 small, roughly grated

Carrot

1 small, peeled and roughly grated

Cheddar Cheese

2 tablespoons, roughly grated

Fresh parsley leaves

1 tablespoon, finely chopped

Fresh lemon juice

½ tablespoon

Salt

½ teaspoon

• 1 kcal

Black pepper powder

½ teaspoon

Breadcrumbs

½ cup

Olive oil

1 tablespoon
Calories refers to 100 gr of product
These patties are extremely delicious and are really easy to prepare. You may consider making the patties half way through the recipes a day in advance and just fry it before you plan to eat it.
Tuna and zucchini patties are best enjoyed hot, either as a snack with the drink of your choice or with a cup of piping hot tea.
It is best to use fresh tuna instead of canned ones to enjoy better flavors!
Instructions:
Use a fork or a potato masher to nicely mash the boiled potato in a bowl. If using canned tuna, drain the fish and flake it nicely. In case you are using fresh tuna then slice the fish in to small and thin slices.
Add the fish to the mashed potatoes along with grated zucchini, carrot, cheddar cheese, chopped parsley, and lemon juice. Season the mixture with salt and black pepper powder.
Mix this mixture really well and then shape it in to small round patties of even size. Chill the patties for 5 minutes in a freezer. Coat the patties evenly in to the bread crumbs and then chill them again for another 10 minutes.
Heat a tablespoon of olive oil in non stick pan. Cook the patties in the oil for 5 minutes on each side or until the patties are evenly golden brown on both sides.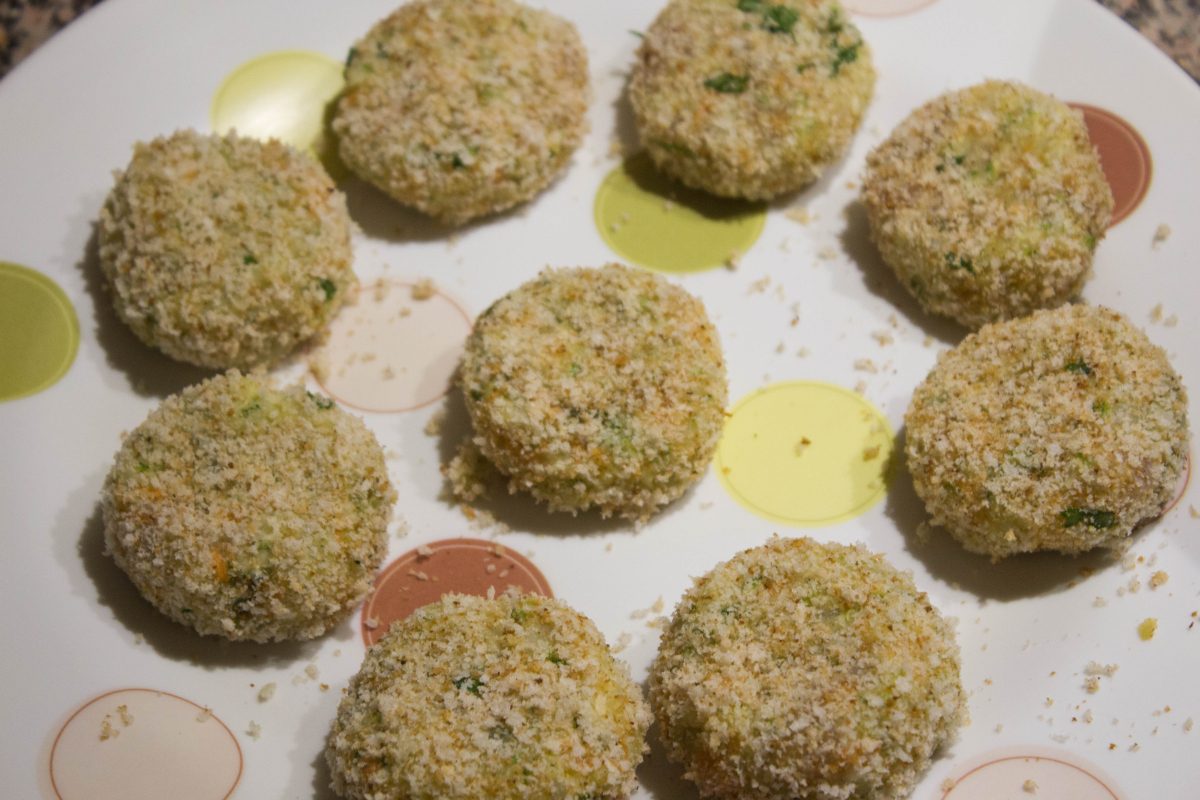 Serve hot tuna zucchini patties with salad and enjoy!
Tips:
Cook the zucchini patties on low to medium flame until the patties are firm and golden brown on both sides. You may use fresh or canned tuna for this preparation. Serve the patties over a bed of fresh vegetable salad along with a generous squeeze of fresh lime juice.
Nutritional information (per serving): 95 Calories, 2.5g Total fat (0.6g Saturated fat, 0.4g Polyunsaturated fat, 1.4g Monounsaturated fat), 5.2mg Cholesterol, 259.6mg Sodium, 280.6mg Potassium, 13.3g Total carbohydrates (1.8g Dietary fiber, 1.3g Sugars), 5.1g Protein