ingredients
Flour

450 g

Yeast

1 bag

Sugar

75 g

• 470 kcal

Vanilla Extract

2 tsp

Eggs

2

• 130 kcal

for the patisserie cream

Milk

150 ml

• 49 kcal

Yogurt

125 ml

Salt

1 tsp

• 1 kcal
Calories refers to 100 gr of product
If you're looking for a pretty dessert that's good enough to eat too, then these Venetian Brioche with Custard is just what you're looking for. Imagine pillowy doughnuts filled with custard and topped with almonds. It's a popular breakfast item in Italy, where it's also known as veneziane. It's named this way, as it's thought that it might have originated in Venice, although it's exact geographical area or origin is uncertain.
It's easy to make. You first make a brioche dough and fill it with a quick and premade custard. Each bit is fluffy, sweet, and creamy. This is definitely a dessert you'd want to share with friends! And you can even have it for breakfast too!
Tips
Use strong "00" flour for best results, but if you're in a pinch, you can also use all-purpose or cake flour.
If you see the tops are browning too quickly, top the baking tray with a piece of foil, and cook until the baking time is done.
You can try other fillings: Fruit Preserves (blueberry, blackberry, strawberry, apricot), Lemon curd, Chocolate ganache, Dulce de leche, Nuts (almonds, walnuts, pecans), Custard and freshly chopped strawberries, Milk chocolate spread and pistachios, Hazelnut cream like Nutella, Fresh cream and mini chocolate chips, Cream cheese and raspberry, Brie cheese and cranberry.
Instead of sprinkling the brioche with powdered sugar, you can also drizzle it with caramel, chocolate ganache, or frosting.
How To Store Venetian Brioche With Custard
Venetian Brioche buns are best served within one hour of assembly. Filled Brioche can be stored in the refrigerator for several hours, just make sure to keep it in an airtight container to prevent it from picking up flavors from the fridge. Allow the brioche to come up to room temperature before serving to your guests.
Store leftover buns (unfilled) at room temperature for up to 3 days. Make sure to keep it in an airtight container. If you live in a humid area, it's best to store the buns in the fridge to prevent mold. The unfilled buns also freeze well. Leave them to thaw at room temperature (overnight) and heat them in the oven before serving.
How To Make Venetian Brioche With Custard
Combine ingredients, flour, yeast, sugar, then mix and add vanilla extract, eggs, butter, and yogurt, as well as salt, and then mix in a fine paste.
Divide the dough into balls and let them stand for half an hour.
Whisk patisserie cream.
After half an hour, coat the balls of the dough with the egg, apply them on each cream and almond leaves.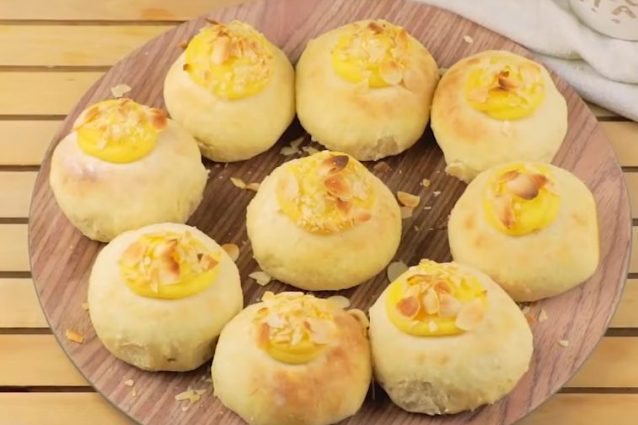 Bake at 350°C for 13-15 minutes. Dust with powdered sugar.
Notes
If you want to make the recipe ahead of time, you can proof the dough overnight in the fridge. And then continue with the recipe the next day.