ingredients
Natural Greek yogurt

500 grams (2 cups)

Fresh cream

200 ml (¾ cup)

Lime

1

Sugar

150 grams (¾ cup)

• 470 kcal

Carob seed flour

5 grams
Calories refers to 100 gr of product
Yogurt and lime ice cream is a fresh dessert with an exotic flavor, perfect during the hottest summer days for quenching your thirst and eating without weighing down your digestion. Creamy and thick, thanks to Greek yogurt and fresh cream, this dessert is flavored with lime juice, to give the final product an explosive scent and fragrance. Serve it in a nice cup, or on an ice cream cone, and enjoy it as a snack or at the end of a meal at a dinner with guests. It will always be a great joy.
How to make yogurt and lime ice cream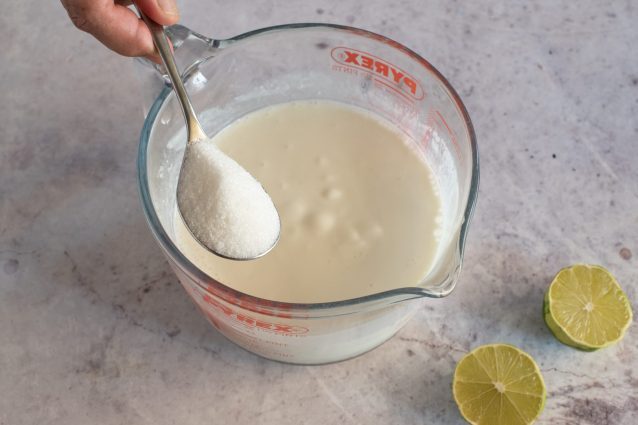 Heat the cream with the carob seed flour, then transfer it to a bowl, add the yogurt and mix with an immersion mixer. Add the sugar (1) and mix perfectly.
Drizzle with the lime juice (2) and mix again with the mixer.
Cover with a sheet of cling film (3) and let it rest in the refrigerator for 4 hours or, better, a whole night.
Pour the mixture into an ice cream maker (4) and stir until the mixture is creamy and soft. Transfer to the freezer and let it harden for a couple of hours.
After the resting and freezing time, serve the ice cream in cone-shaped waffles (5) or in individual cups.
Preservation
If you have any ice cream left over, you can transfer it to a special container with an airtight seal and preserve it in the freezer for up to 7 days.