ingredients
Plums

300 grams

Sugar

100 grams

• 470 kcal

Natural Greek yogurt

500 grams

Milk

200 ml

• 49 kcal

Sugar

70 grams

• 470 kcal

Dextrose

20 grams

Carob seed flour

5 grams

Chocolate chips
Calories refers to 100 gr of product
Yogurt and plums ice cream is a delicious and nice fruit ice cream proposal. The plums, slightly caramelized with a bit of sugar, give an all-natural sweetness, while the Greek yogurt, used as a substitute for the cream, gives us a healthy, light and equally creamy version (also thanks to the use of dextrose and the carob seed flour). Genuine and satisfying, this ice cream is perfect for a snack or to end the meal without too many guilt feelings. So let's see how to make it in the best way.
How to prepare yogurt and plums ice cream
Cut the plums into pieces and collect them in a saucepan; add the sugar (1), put on the fire and cook for about ten minutes, the time needed to slightly caramelize and soften them.
Add the carob seed flour and blend with an immersion mixer to obtain a homogeneous puree (2).
Mix the yogurt with the milk, sugar and dextrose (3).
Finally add the plum puree (4) and mix carefully. Transfer to the refrigerator and let it rest for a whole night.
After the resting time, resume the mixture and blend again with the mixer, then pour it into the ice cream maker (5) and stir until you will have obtained a soft and voluminous ice cream.
Transfer the ice cream to a bowl (6) and keep in the freezer until ready to serve.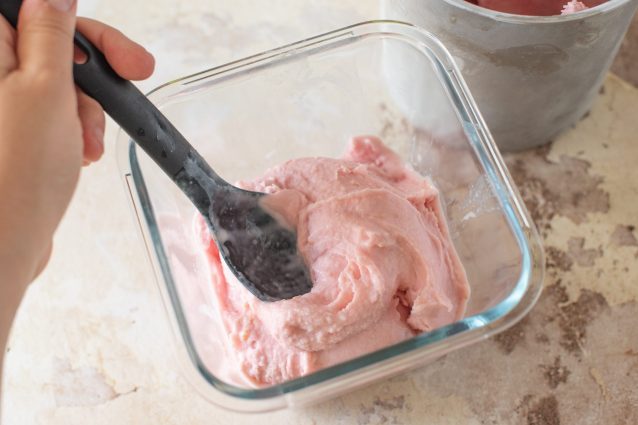 Distribute the ice cream in individual bowls or in a large bowl, garnish as desired and enjoy (7).
Preservation
Yogurt and plums ice cream, like all homemade ice creams, is good freshly made and for this reason we recommend you to prepare just the quantity that you will need from time to time. If it should remain some ice cream, you can still put it in a special container with hermetic seal and transfer it to the freezer for a maximum of 7 days.