ingredients
Ladyfingers

300 g

Chocolate chips

100 g

Water

300 ml

alchermes liqueur

3 tbsp

Sugar

2 tbsp

• 470 kcal

for the custard

Egg yolks

3

Sugar

3 tbsp

• 470 kcal

Cornstarch

1 tbsp

• 338 kcal

Vanilla

1 tsp

Milk

400 ml

• 49 kcal
Calories refers to 100 gr of product
Zuppa Inglese is a classic Italian trifle consisting of layers of custard and sponge. Interestingly, the name 'Zuppa Inglese' actually means English Soup. We're not sure why it's called that way, but it's a combination of sponge, custard, and liqueur… how can it not be delicious?
The Zuppa Inglese is a no-bake Italian dessert that originated from the Northern part of Italy. It's sweet, light, and creamy, and perfect for when you have guests over. When you slice into the trifle, the beautiful layers are revealed—definitely a showstopper. Not just good to look at, but also super tasty! It's perfect for special occasions!
Tips for making the Best Zuppa Inglese
The Zuppa Inglese can be made one day ahead of time and stored in the fridge.
One of the main ingredients in the Zuppa Inglese is the spicy-sweet Italian liqueur Alchermes. It's a strong alcoholic liqueur containing cinnamon, cloves, nutmeg, vanilla, and other herbs. If you cannot find it in a store near you, you can use grenadine syrup or homemade limoncello.
Grenadine syrup will also be suitable if you want to make an alcohol-free version.
You can also use sponge cake instead of the ladyfingers.
Top it with fresh raspberries instead of chocolate chips for a bright pop of color.
Add rum extract to the custard for extra flavor. Use mascarpone for extra richness.
If you're having guests over, why not make the Italian Trifle in individual glasses, so that each guest has their own serving.
If you want more chocolate flavor, add chocolate sauce between the layers.
Zuppa Inglese Variations
There are different variations, depending on the region you're in.
Emilia Romagna – any of the following can be added: coffee extract, plum jam, and rum or layers of chocolate, custard, and Alchermes-soaked sponge.
Modena – adds ladyfingers, sugar syrup, and white vermouth instead of Alchermes, and layers of chocolate or custard.
Naples –Margherita cake or Pan di Spagna (sponge cake), rum and limoncello are used. It's covered with meringue and baked to set.
How To Store Italian Trifle
Store leftover Italian trifle in the fridge for up to 3 days. Make sure to keep it in an airtight container to prevent it from picking up flavors from the fridge.
How to make Zuppa inglese
For the custard, add eggs, add sugar, starch, and vanilla to the saucepan.
Pour some milk and mix well to combine. Add the remaining milk and set it aside. Cook until cream thickens.
Pour water and sugar into another saucepan and heat until sugar melted.
Allow the syrup to cool. As soon as the syrup has cooled, add the Alchermes.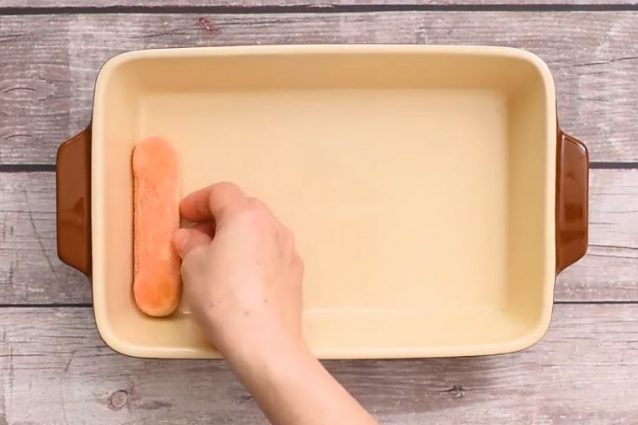 Soak the ladyfingers in the syrup and put it in a baking dish.
Pour half of the cream on the biscuits and add a handful of chocolate chips.
Make a second layer of biscuits and cover with cream again.
Add chocolate chips, and chill for 3-4 hours.