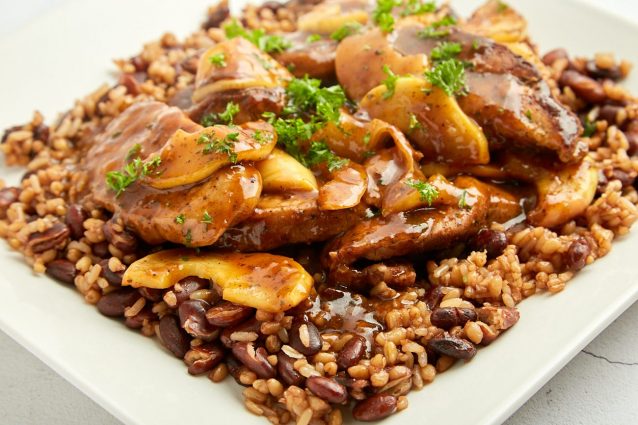 ingredients
poultry seasoning

3/4 teaspoon

Garlic salt

1/2 teaspoon

Pepper

1/2 teaspoon

Ground nutmeg

1/4 teaspoon

Salt

1/4 teaspoon

• 1 kcal

Pork tenderloin

1 (1 pound)

Butter

1 tablespoon

• 717 kcal

tart apple

1 medium , sliced

Canola oil

1 tablespoon

Chicken broth

1/2 cup

white wine or additional broth

1/2 cup

Cornstarch

1 tablespoon

• 338 kcal

apple juice concentrate

3 tablespoons thawed

Chopped fresh parsley (optional)
Calories refers to 100 gr of product
Try this fast weeknight dinner dish if you fancy a change up from ordinary pork recipes. The combination of juicy apple, tender pork, and a spice rub make this a fabulous and easy meal that is bound to impress everyone.
INSTRUCTIONS
Mix the poultry seasoning, nutmeg, garlic salt, pepper, and salt together to make a rub. Cut the tenderloin crosswise into eight slices, and pound each one with a meat mallet or rolling pin to 1/2-inch thickness. Sprinkle pork all over with seasoning mixture, coating it on both sides.
In a large nonstick skillet, heat the butter over medium heat. Add apple, and cook and stir for 3-4 minutes or until crisp-yet-tender.
Remove from pan and set aside. In the same pan, heat oil over medium-high heat. Add the pork in batches, and brown pork on both sides.
Remove from pan.
Add broth and wine to pan, stirring to incorporate the browned bits from the pan.
Mix the cornstarch and apple juice concentrate until smooth, then stir into broth mixture.
Return to a boil, stirring constantly. Cook and keep stirring for 1-2 minutes, or until sauce has thickened.
Return pork and apple slices to pan.
Reduce heat to medium, and cover with a pan lid. Cook, covered, for around 3-5 minutes or until a meat thermometer inserted in pork reads at least 145°F. Let stand for 5 minutes. Sprinkle with parsley and serve on a bed of rice or with veggies.