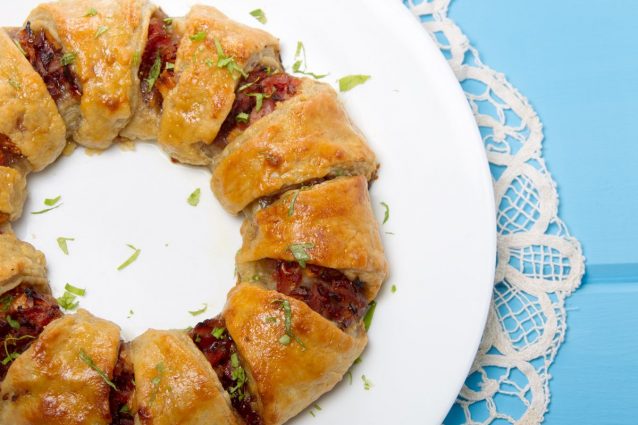 ingredients
Bacon

8 slices

Salt

1 tsp

• 1 kcal

Pepper

1 tsp

Puff pastry

1 package

Eggs

1

• 130 kcal

Brie cheese

1 cup

Whole Milk

1/4 cup

Red fruit jam

1/3 cup
Calories refers to 100 gr of product
It is a very appetizing recipe, an aperitif that can be accompanied with any refreshing drink and that everyone will love. It is easy to prepare, ideal for guests and parties, the filling can be varied and thus give a personal touch, you can place dehydrated tomatoes, nuts, jam or other ingredient that enhances the flavor and makes contrast with the delicious taste of bacon. In this opportunity the main ingredients will be, the bacon, the brie cheese and the fruit jam; three great flavors that will quickly and easily create a wonderful dish full of taste, texture and that will have an excellent and provocative appearance. I invite you to dare to prepare it, I know that everyone will love this recipe.
For this recipe it is important that you have some considerations of the manipulation of puff pastry doughs; The first thing is that the colder the manipulation is much better, it is also important to know that the puff pastry cannot join and knead again if we make a wrong cut, because it would lose its layers and result in a very greasy mass without layers. So, it is very important for this recipe, to cut the puff pastry precisely. Finally, the sharper the knife used to cut the puff pastry, you will get a better finish.
Remove the puff pastry from the refrigerator and put on a clean, flat, dry surface. You can spread a little flour to manipulate the dough and prevent it from sticking. With a sharp knife cut the dough into triangles. In our case, we had a piece of round dough and cut it as if it were a pizza. Cut the bacon into small pieces and toast in a pan; also, cut the brie cheese into tiny pieces. To make the roll, you should prepare a baking sheet with a waxed paper or cover with a silicone blanket. On the tray, place the dough triangles concentrically; the narrowest leg of the triangle should form the inner circle of the roll. You can place a round pot in the center and from there arrange the dough triangles to obtain a perfect roll.
On the edge of the circle, spread the bacon, over the cheese and finally the jam. Then, take the vertex of the triangle, and roll up on itself forming the ring. Collect the dough as best you can to prevent it from losing the filling. Bake at 300F for 25 minutes. Meanwhile, beat the milk and the egg in a cup. This mixture will serve to varnish the ring.
About 10 minutes before the end of cooking, remove and varnish with the egg and milk mixture. Introduce the oven again for another 10 to 5 minutes.
Servings: 8 Amount per serving   Calories 316 % Daily Value* Total Fat 22.7g 29% Saturated Fat 8.3g 42% Cholesterol 60mg 20% Sodium 912mg 40% Total Carbohydrate 14g 5% Dietary Fiber 0.4g 2% Total Sugars 2.7g   Protein 13.5g   Vitamin D 5mcg 25% Calcium 50mg 4% Iron 1mg 6% Potassium 171mg 4%