ingredients
Cream of mushroom soup

1 10 1/2 ounce can

Beef broth

2 cups

long-grain white rice, uncooked

1 cup

Garlic powder

1/4 tsp

dried chives

1/4 tsp

Onion powder

1/4 tsp

thick-cut pork chops (bone-in or boneless is fine)

4

granulated onion

2 tbsp

Italian seasoning

1 tbsp
When it's cold outside, we crave hearty comfort foods like baked pork chops and rice. This fantastic, simple-to-make dish features tender, succulent pork chops and perfectly cooked rice. The rice is packed with flavor thanks to soup, broth, seasonings, and absorbing the flavors from the pork chops. You can make pork chops and rice in the oven so easily. It's an incredible tasting meal you can whip up in no time that your family will ask for again and again.
How to Make Baked Pork Chops with Rice
Making homemade baked pork chops with rice couldn't be easier. It's as simple as combining the soup, rice, and broth with seasonings, placing the pork chops over the rice, and seasoning the pork chops. Then all that's left to do is cover and bake the dish for about 45 minutes. The result is ultra-tender pork chops with flavorful, fluffy rice. This dish only calls for 1 bowl and a baking dish, making it mess-free and perfect for busy home cooks.
What to Serve with Pork Chops and Rice
Baked pork chops and rice go with a wide variety of side dishes. Serve them with a green salad, dinner rolls, steamed or roasted vegetables, or some homemade biscuits.
Tips for Making the Best Baked Pork Chops and Rice
– Either bone-in or boneless pork chops work in this recipe. Whichever you choose, opt for a thicker cut. Remember, the thicker the cut, the longer the chops will need to cook. Use an instant-read thermometer to know when they're done.
– The pork chops are done cooking when they reach an internal temperature of 145°F. Use an instant-read thermometer to check when they're done and avoid overcooking them.
– Be sure to cover the pork chops while you're baking them to help keep them juicy and tender and will prevent them from drying out.
– If you don't have a baking tray, you can use an oven-safe skillet.
– Garnish your pork chops with fresh herbs like thyme, rosemary, or parsley.
– If you're freezing leftovers, only freeze the pork chops. The texture of the rice doesn't hold up well to freezing, so you'll want to make fresh rice when serving thawed and reheated pork chops.
Easy Variations for Baked Pork Chops and Rice
For a healthier version, use brown rice, yellow rice, or quinoa instead of white rice. However, brown rice takes longer to cook, so you'll need to adjust the cooking time.
You can use a dry onion soup mix as a seasoning instead of onion powder and Italian seasoning, or any of your favorite seasonings like taco seasoning, Creole, or Old Bay.
If you like mushrooms, you can also try this baked pork chop with cream of mushroom soup recipe.
How to Store Baked Pork Chops and Rice
If you have leftovers, store them in an airtight container in the fridge for up to 4 days. Baked pork chops and rice will stay good in the freezer for up to 3 months. To reheat, place in a baking dish and bake at 325°F for 20 minutes.
How to Make Baked Pork Chops with Rice
Preheat your oven to 350°F. Grease a baking dish with cooking spray.
In a small bowl, combine soup, broth, and rice.
Add in garlic powder, chives, and onion powder.
Pour into the baking dish.
Place the pork chops on top of the rice mixture.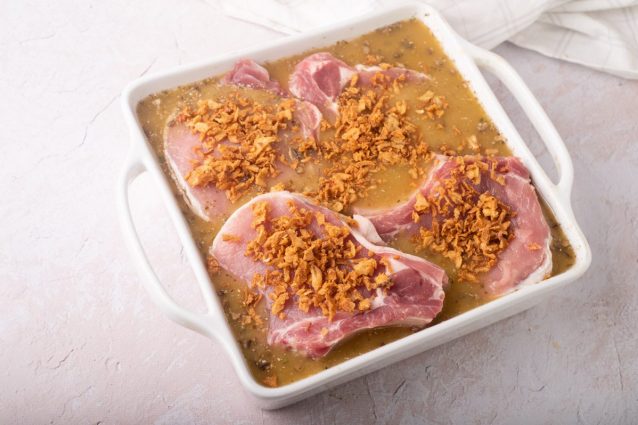 Dust with onion powder and Italian seasoning.
Wrap the baking dish with foil and bake for 45 minutes, or until the rice is tender and the chops have cooked through.
Remove from the oven, fluff the rice, and serve.
Notes
Pat the pork chops dry before placing them on the rice mixture.