ingredients
whole chicken breasts

2

Eggs

2

• 130 kcal

Milk

30 ml

• 49 kcal

Breadcrumbs

Extra virgin olive oil

Salt

• 1 kcal

for the stuffing

provolone

8 slices

Dried tomatoes in oil

7 to 8

unsalted capers

a handful

Parsley

1 tuft
Calories refers to 100 gr of product
Baked stuffed chicken cutlets are a simple and tasty dish, perfect to serve at a nice family lunch. They are very easy to make, you have just to be careful in cutting the chicken slices and creating small pockets. Stuffed with dried tomatoes, capers and sliced ​​provola, they are breaded and finally baked in the oven.
This chicken recipe is crispy, golden on the outside and super stringy on the inside, ideal to serve as a main course, served with a side of potatoes or seasonal vegetables. These cutlets can be customized as you want and also be prepared in advance and baked just before serving. So let's find out how to make them by following our recipe step by step.
Tips
You can cut the chicken breasts to form a pocket or, alternatively, you can also open them like a booklet. In this case, be careful to seal the edges well after inserting the filling, the risk is that this could escape during cooking. Just to be sure, you can also close the flaps with wooden sticks.
If you want to get an even crunchier dish, add 1 tablespoon of cornmeal to the breadcrumbs.
You can replace the provola with scamorza, mozzarella for pizza or another cheese of your choice, as long as it is dry and stringy. Versatile and tasty, you can also stuff these cutlets with cold cuts, grilled zucchini, sautéed spinach, cherry tomatoes. In short, with everything your imagination suggests.
Thoroughly rinse the capers under cold running water to remove the salt. Combined with the dried tomatoes, you will get a rather savory filling, so be careful to add salt.
You can bake chicken cutlets in the oven, as in our recipe, but also fry them in boiling seed oil, for an even more delicious final result.
How to store Baked Stuffed Chicken Cutlets
Baked chicken stuffed cutlets can be stored in the refrigerator, inside a special airtight container, for a maximum of 1-2 days.
How to make Baked Stuffed Chicken Cutlets
Clean the chicken breasts, remove the central bone and the parts with the cartilage (1), then cut them into slices.
With a sharp knife make a deep incision along the slices, so as to obtain a pocket (2).
Finely chop the dried tomatoes with capers and parsley (3).
Stuff the chicken slices with the aromatic mixture and then add a couple of thin slices of provolone (4). Close and press the edges well, in order to seal them.
Beat the eggs with the milk and a pinch of salt. Pass the stuffed chicken cutlets in eggs (5).
Drain them and then pass them in breadcrumbs (6).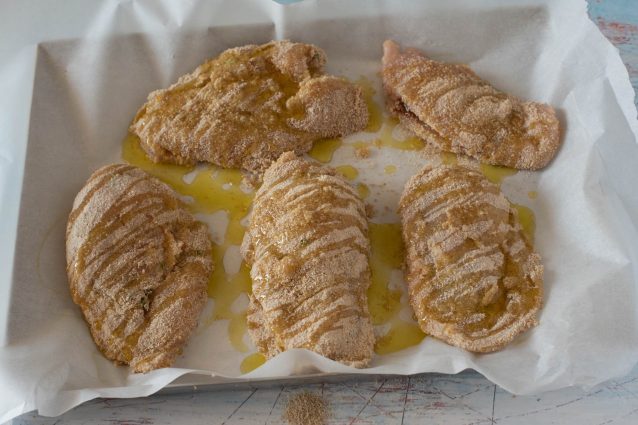 Transfer the chicken cutlets to a baking tray, lined with a sheet of parchment paper, season with a drizzle of oil (7) and cook in a ventilated oven, with the grill on, at 400° F for about 20 minutes.
When the surface is nice and crunchy, take the cutlets out of the oven and enjoy them hot or lukewarm (8).