ingredients
boneless top round

4 slices

Vinegar

30 g

Pine nuts

30 g

roman pecorino

60 g

Chopped Parsley

Salt

• 1 kcal

Black pepper

White wine

1/2 glass

Tomato sauce

750 ml

Extra virgin olive oil
Calories refers to 100 gr of product
Beef braciole is a traditional recipe from Southern Italy (in Naples) people enjoy during a family dinner. In Neapolitan dialect, the term braciola refers to a thin meat roll up, but it can also be pork, fish or vegetables. Tasty and super easy to make, they are delicious thin beef rolls similar to a roulade which are stuffed with raisins, pine nuts, parsley, garlic and pecorino cheese. Beef slices are cooked in the tomato sauce for hours over low heat. You can also use the sauce to season pasta the next day.
What is a Beef Braciola?
Braciole are a typical Italian recipe from Campania region (in the South), so be sure to pronounce it in the correct way that is bra-choh-leh.
A braciola (plural braciole) is a delicious dish made with thin meat slices that are stuffed, rolled up and simmered in a tomato sauce. The traditional savory filling is made of pine nuts, raisins, parsley, garlic and pecorino cheese, but everyone can customize it to taste.
How to make Beef Braciole
Making beef braciole is easier than you may think. Start by beating beef slices with a meat tenderizer, season and spread with raisins, pine nuts, garlic, parsley and pecorino cheese. Roll them up and seal slices with four toothpicks crosswise.
Next, fry the sliced onion in a pan with oil. Add beef roll ups and white wine, then season and let them cook until browned. Add the tomato sauce and basil. Finally, let them simmer covered for up to 2 hours.
Tips
– Instead of pecorino cheese, you can also use caciocavallo cheese.
– Different beef cuts work with this recipe. The best ones are the top round, flank steak, sirloin and even skirt steak.
– You can customize this recipe as you prefer. Add breadcrumbs, onions, tomatoes, Parmesan cheese or even hard eggs.
– You don't have to tie beef braciole, just be sure to seal them well with a toothpick.
– To make Sicilian braciole, use onions, breadcrumbs, sliced ham and stringy cheese for the savory filling.
– For a healthier version, make beef braciole in the oven, just bake them for 35 minutes to 400°F.
– You can also make braciole in the slow cooker. Cook beef roll ups on low for 5 hours. If you're in a hurry, you can make it in the instant pot, let them cook on high pressure for 30 minutes.
What to serve with Beef Braciole
Beef braciole are a delicious recipe that pairs great with ziti pasta, risotto, veggie puree or polenta and a full bodied red wine. 
How to store Beef Braciole
You can store the beef braciole in the refrigerator for up to 3 days, inside an airtight container. Reheat the dish in a pan over low heat for about 10 minutes or until warm. You can also freeze beef braciole for up to 3 months.
Instructions
Arrange the meat slices on a cutting board and beat them with a meat tenderizer.
Season with salt and pepper and add raisins, pine nuts, garlic, chopped parsley and pecorino cheese, leaving only the edges of the meat slices free. Close each one by rolling them up.
Seal beef roll ups with 4 small toothpicks crosswise or with a single large toothpick vertically.
Fry the sliced onion in a pan with 2 tablespoons of oil. Add the braciole and let them brown, season with salt and pepper and deglaze with white wine.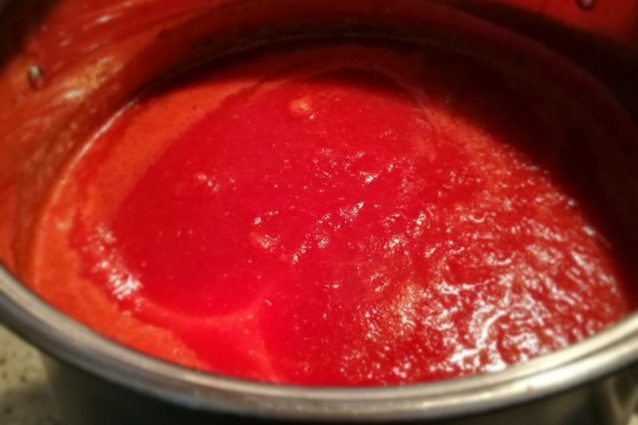 Add the tomato sauce and basil, then cover with a lid. Cook over low heat for 2 hours as the meat sauce should simmer.
Remove the lid and allow the sauce to reduce. Serve and enjoy!