ingredients
beef shanks cut into 4-inch pieces

2 to 3 pounds

Butter

1/4 cup

• 717 kcal

Garlic, minced

3 to 4 cloves

yellow onion sliced

1 medium

large carrots, chopped

2

Dry white wine

1/2 cup

Tomatoes, diced

2 ½ cups

beef stock

1/2 cup

kosher salt and freshly cracked pepper to taste
Calories refers to 100 gr of product
For a wonderful, comforting yet hearty dish with ample flavor, look no further than braised beef shanks. Also known by its Italian name ossobuco, braised beef shanks get their phenomenal flavor from slow cooking the meat with wine, vegetables, and stock. The recipe originates in the north of Italy and is perfect when you're in the mood for a rich dish with tender fall-off-the-bone meat and mouthwatering flavor. Osso bucco is great served with any number of side dishes like roast potatoes or veggies, but you can also enjoy it on its own, paired with a glass of red wine.
What is Osso Bucco?
In Italian, osso bucco means "bone with a hole" which refers to the marrow found in the middle of the cow's shank. In the north of Italy where osso bucco originates, veal shanks are typically used in the recipe, but beef works beautifully, too.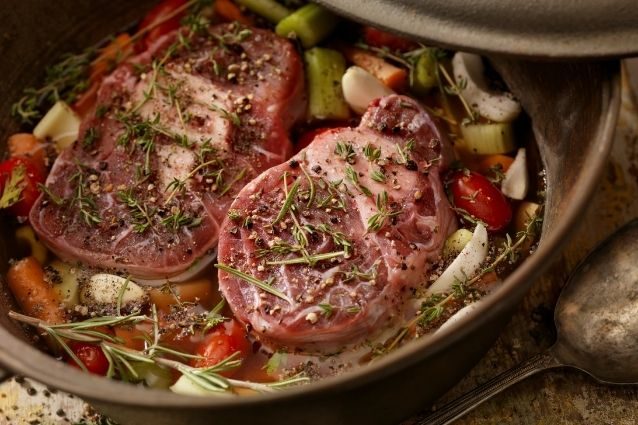 Tips for Making the Perfect Braised Beef Shanks
– Make your osso bucco a day ahead for a richer more nuanced flavor.
– Before frying the beef, you can lightly coat it in flour for a more intense flavor.
– When deglazing the pan, make sure to scrape up any browned bits. These enhance the taste of the osso bucco.
– You can also cook braised beef shanks on the stovetop. Simply cover the pan, bring the liquid to a simmer, then reduce the heat to low. Cook for 2 to 3 hours, stirring occasionally.
What to Serve with Osso Bucco
Osso bucco is versatile and you can serve it with a variety of side dishes. Risotto is a classic choice, but polenta and pasta are tasty as well. Alternatively, serve it with roasted or mashed potatoes, roasted vegetables, or a light salad.
How to Make Braised Beef Shanks
Preheat your oven to 300°F.
In a braising pan or Dutch oven, melt the butter over medium-high heat.
Brown the meat on each side, then place on a plate and cover to keep warm.
Cook the onions until they soften, about 7 minutes. Stir in the carrots and garlic, and fry until the garlic becomes fragrant, about 45 seconds to 1 minute.
Deglaze the pan with the white wine. Add the stock and tomatoes.
Place the beef back in the pan so that is completely covered by the stock mixture, then cover the pan with the lid.
Cook the beef shanks for 4 to 5 hours, or until the meat is tender and falling off the bone.
Notes
Either beef or veal shanks can be used to make a delicious osso bucco.