ingredients
Butter

1/2 cup

• 717 kcal

All-purpose flour

5 ounces

Baking powder

3/4 tsp

• 156 kcal

Salt

3/4 tsp

• 1 kcal

Brown sugar

8 ounces

Granulated sugar

1/4 cup

Large eggs

2

Vanilla Extract

1 tsp

chopped nuts (optional)
Calories refers to 100 gr of product
Rich, chewy with slightly crisp edges, brown butter blondies are the amazing baked goodie you should be making right now. Browning the butter before mixing it into the batter will give your blondies an ultra-rich, nutty flavor that makes them even more irresistible than the classic blondie brownie recipe. Making a batch of homemade brown butter blondies is a cinch.
Just brown the butter, combine the ingredients, and bake! It's that easy. These sweet, rich treats are amazing for parties, potlucks, and picnics – anytime you have a large group to feed. The best part is that you can customize these delicious blondies any way you please. Add chocolate chips or chopped nuts, mix in a splash of bourbon or rum – get creative!
What is a Blondie?
Blondies are brownies without chocolate. They get their name from their light blonde color. Like brownies, they're rich and chewy, with an almost fudge-like texture. They're made in the same way as brownies, minus the cocoa powder.
How to Make Brown Butter Blondies
You'll love how easy it is to make these great-tasting brown butter blondies. Start by preheating your oven to 350F and lining a baking dish with parchment paper. While the oven warms up, brown the butter. Melt the butter in a shallow, wide pan over medium heat. Keep stirring the butter. It'll take several minutes to start browning, and you'll want to keep an eye on it during the browning process.
Once the butter browns it can burn quickly, so don't leave it unattended! Once the butter browns and takes on a nutty aroma, pour it into a bowl to cool. Whisk the dry ingredients together and set them aside. Beat the sugars, vanilla, and eggs into the brown butter, making sure everything is nice and smooth. Add in the flour and gently stir it until the batter is just combined, then pour the batter into your baking dish.
Bake the blondies for 35 to 40 minutes, then take them out of the oven and let them cool in the pan before taking them out to slice into bars.
Tips for Making the Best Brown Butter Blondies
When lining the baking dish with parchment paper, leave a little overhang on the sides. This will make it easier for you to remove the blondies from the pan once they've cooled.
Use a kitchen scale when measuring out the ingredients.
Add some chopped nuts to play up the nuttiness of your brown butter blondies. Chocolate chips, butterscotch chips, and dried fruit are great additions, too.
You can use the mixture of white sugar and brown sugar, or use all white sugar or all brown sugar to make your blondies. Using brown sugar will make them moister and more tender.
If you don't have (or don't want to use) eggs, substitute the eggs for ¼ cup of plain yogurt. You could also use flax eggs, nut butter, or applesauce as substitutions.
How to Store Brown Butter Blondies
Put your blondies in an airtight container and leave them at room temperature. Enjoy them within 4 days.
Can I Freeze Brown Butter Blondies?
Absolutely! Freezing your blondies is a great way to keep them fresh for longer. Frozen blondies will last up to 3 months. Be sure to wrap them well to prevent them from getting freezer burn.
Instructions
Preheat your oven to 350F. Line a baking dish with parchment paper.
Melt the butter in a pan over medium heat. Stir continuously until it turns brown and gives off a nutty aroma. Transfer the butter to a bowl and let cool.
In a separate bowl, whisk the flour, baking powder, and salt.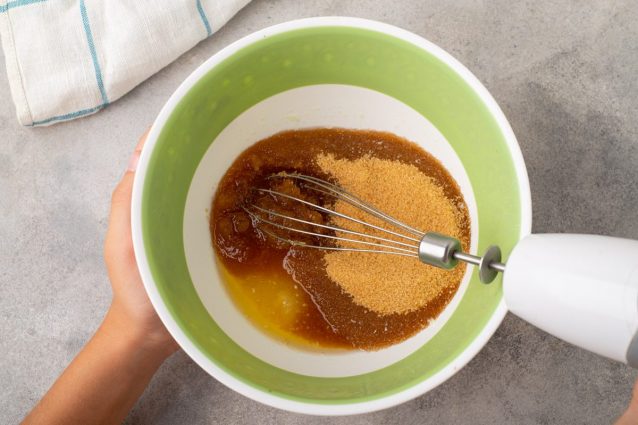 Beat the white sugar and brown sugar into the butter.
Beat in the eggs. Beat in the vanilla.
Add in the flour mixture and beat until just combined.
Add the chopped nuts.
Transfer the batter into the prepared baking dish.
Bake for 35 to 40 minutes.
Remove from the oven and let cool before slicing.