Ingredients
white chocolate chips (optional)
milk chocolate chips (optional)
dark chocolate chips (optional)
These homemade brownies are an easy dessert recipe that will be a hit with any chocolate lover. They might just be the best brownies you've tasted.
Imagine fudgy brownies that are rich in chocolate flavor, with crisp edges and crackly tops. They're fudgy, moist, and dense in the middle, with a slight shiny top. If you're still wondering, brownies are called that precisely because they're dark brown in color.
Once baked, the brownies are cut into squares or rectangular pieces and served as is, or with your favorite ice cream. It goes without saying, but these ones are better than the brownies you'd make from box mix brownies. You simply mix the ingredients into one bowl, mix, and bake. As easy as that. You'll love these rich, decadent chocolate brownies.
Brownies originated in the United States in the late 19th century, and since then, there has been a multitude of recipes. Do we need another brownie recipe? Yes, we do!
Types of Chocolate Brownies
There are many different types of brownies, and depending on what ratio of ingredients you use, you'll end up with either a fudgy, chewy, or cakey brownie.
Cakey brownies have a texture similar to that of cake. Light and fluffy, with a cake-like texture. Cakey brownies usually contain more flour and less butter than the fudgy and chewy brownies.
Fudgy brownies are moist and dense. They're called fudgy, but it's not quite as compact as actual fudge. Fudgier brownies contain more chocolate and butter.
Chewy brownies are somewhere in between cakey and fudgy brownies. They are dense, but not as dense as fudgy brownies. They contain more flour than fudgy brownies, but not as much as cakey brownies.
Homemade Brownie Ingredients
Butter – use real butter for the best flavor.
Sugar – sugar not only adds sweetness but also makes the brownie crackly.
Chocolate – use high-quality baking chocolate, not the chocolate in the candy aisle.
Cocoa powder – use natural (unsweetened) cocoa powder, or Dutch-processed cocoa powder.
Eggs – the eggs add richness to the brownies.
Flour – because these brownies are so fudgy, you only need a small amount of flour.
How To Make Fudgy Brownies From Scratch
Beat the wet ingredients in a large mixing bowl. Sift in the dry ingredients and mix. Then fold in the chocolate chips.
Transfer the mixture into the cake mold (8×8-inch or 20cm x 20cm) and smooth the batter with the spatula. You can store the unbaked batter in the fridge for up to 3 days.
Bake until cooked through, there should still be a few moist crumbs on the skewer.
How To Tell If Brownies Are Done
If the brownies are taking longer to bake, it could be because your oven is set to low. Ovens vary, so rather use a toothpick or skewer to check the doneness of your brownies.
For the perfectly moist and fudgy brownie, the skewer will have moist, wet crumbs on it.
How To Cut Brownies
Allow the brownies to cool completely before cutting. Spray a large knife with cooking spray before cutting—this will prevent the brownies from sticking to the knife.
Tips For Making The Best Brownies
We decided to make this brownie recipe even richer by adding different kind of chocolate chips, but you can also leave them out or use chopped chocolate instead.
For extra flavor, you can use vanilla extract.
Feel free to add nuts (pecans, walnuts, or almonds), for extra flavor.
If you prefer, use olive oil instead of butter.
If you want to leave out the egg, you can substitute it with 1 tablespoon ground flaxseed mixed with 3 tablespoons water OR ½ a medium Banana, mashed OR ¼ cup (4 tablespoons) Apple sauce OR ¼ cups yogurt/buttermilk. Any of these substitutions will be enough for one egg.
How To Store Homemade Brownies
These fudgy brownies can be stored at room temperature for up to one day, or in the fridge for up to 4 days.
Can You Freeze Brownies?
You can freeze the brownies for up to 3 months. Once baked and cooled, wrap tightly with plastic wrap, and place in a ziplocked plastic bag.
More Recipes You'll Like
Instructions
Add the melted butter and granulated sugar into a large bowl.
Add the melted butter and granulated sugar into a large bowl.
Stir in the brown sugar.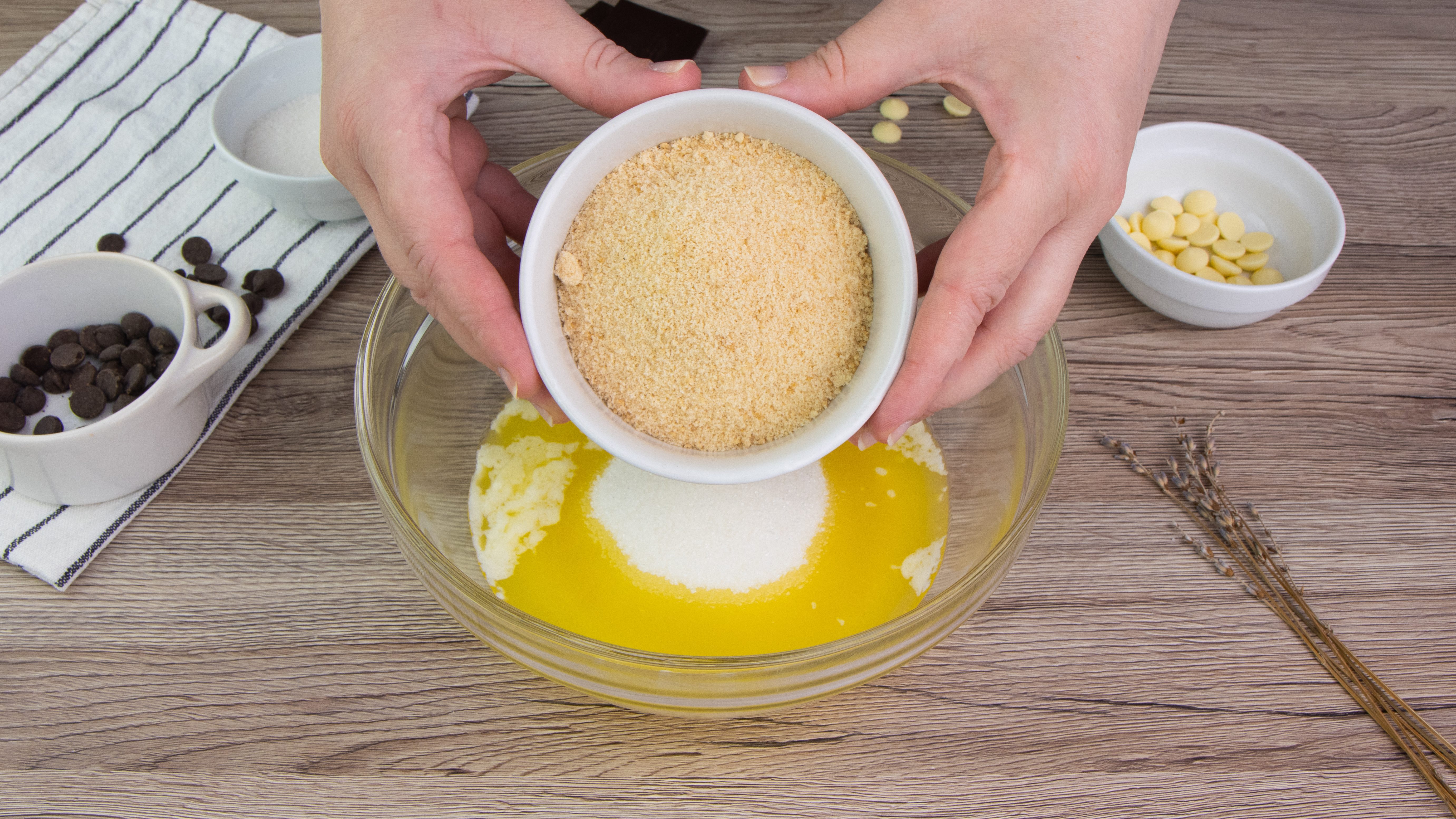 Beat until light and fluffy.
Add the eggs.
Beat again.
Beat until light and fluffy.
Add the melted dark chocolate.
Continue to mix until smooth.
Sift in the flour.
Add the cocoa powder, making sure to sift it well.
Stir in the salt.
Mix with a spatula until smooth.
Add the melted dark chocolate.
Add the white chocolate chips.
Stir in the milk chocolate chips.
Continue to mix until smooth.
Add in the dark chocolate chips, and mix all well together with a spatula.
Mix until the chocolate chips are fully incorporated into the batter.
Transfer the mixture into the cake mold (8×8-inch or 20cm x 20cm).
Smooth the batter with the spatula.
Add the cocoa powder, making sure to sift it well.
Bake in the oven at 170°C/338°F for 20 minutes.
Cut into squares and serve.
Notes
Make your own swirl brownie: Add ¾ cup jam, peanut butter, cream cheese, and caramel, and swirl them in before baking.