ingredients
chicken breasts, no skin on

2

salt and pepper

pesto sauce

75 g (1/3 cup)

Tomato, sliced

1

mozzarella cheese, cut in half

6 slices

Sour cream

120 g (1/2 cup)
Caprese Chicken incorporates all the wonderful ingredients of a Caprese salad, into a quick and easy dinner. Basically, Italian Caprese ingredients are stuffed into pockets into the chicken breast, covered with an egg and sour cream mixture, and baked to perfection. The texture? Expect juicy, tender chicken with pops of flavor from the pesto, tomato, and cheese.  It's fancy enough to serve to guests but easy enough to make for a quick midweek dinner too! It brings all the flavor that you'd expect from a Caprese salad, but the chicken adds enough protein to make this a satisfying meal. It's simple, fast, and incredibly tasty!
What is Caprese Chicken?
Caprese usually refers to a simple Italian salad of mozzarella cheese slices, tomatoes, and fresh sweet basil. It is seasoned with olive oil, salt, and a balsamic vinaigrette is also added. Interestingly, the colors feature the same colors as the Italian flag—green (basil), red (tomatoes), and white (mozzarella). Caprese Chicken incorporates these delicious flavors with chicken breast.
Caprese Chicken Ingredients
Chicken breast is used because the size is large enough to stuff with the Caprese salad ingredients.
Mozzarella, tomato, and basil pesto are the essential flavors for a Caprese dish, so don't skip these!
Sour cream and egg are added to the chicken breast as a binder and creates a juicy casserole.
How to make Caprese Chicken
The Caprese Chicken is quick to prepare. Simply make small slices in the chicken breasts (only make pockets; do not slice through completely!). Stuff the pockets with basil pesto, tomato, and mozzarella. The stuffed chicken breasts are placed in a baking dish, and a mixture of sour cream and egg is poured over. Bake until golden and enjoy!
What to serve with Caprese Chicken?
Serve with a side of roasted vegetables such as roasted broccoli or wilted greens. If you're not on a low-carb diet, serve on a bed of mashed potatoes, or a side of roast potatoes.
A balsamic reduction is also delicious when drizzled over. Make your own by cooking balsamic vinegar and sugar until the mixture thickens.
Tips for Perfect Chicken Caprese
– Chicken Caprese is the ideal low-carb, or keto-friendly dish. It's healthy because you're using lean chicken breast and fresh ingredients for the filling.
– This dish is best served fresh out of the oven, you don't want to leave the chicken for a long time before serving.
– Use a thermometer to check that the internal temperature of the chicken reaches 165°F.
– If you don't have chicken breasts, you can use large chicken thigh fillets, but they might be more difficult to stuff due to their small surface area.
How to store Caprese Chicken
Store the cooked chicken breasts in the fridge (in an airtight container) for up to 3 days.
Instructions
Make a deep slit along with each chicken breast without cutting it through.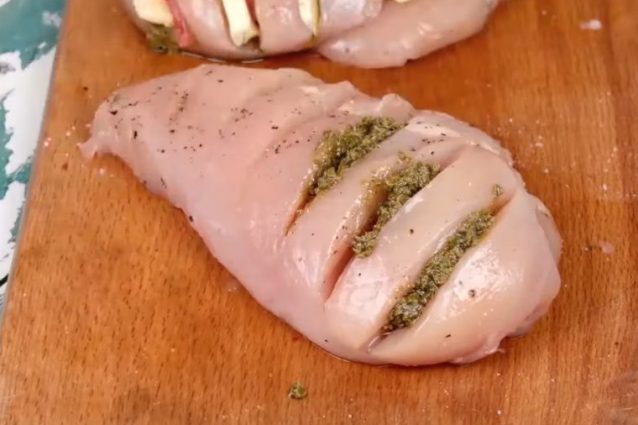 Season with salt and pepper generously on both sides. Fill each slit with pesto.
The fill with tomato and mozzarella.
Mix together the egg, sour cream, salt, and pepper.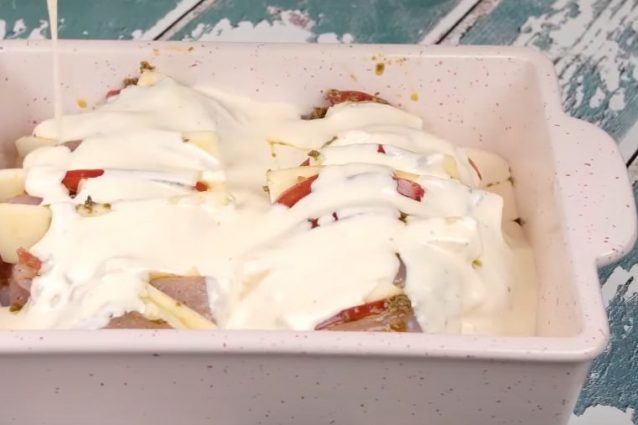 Place into a baking pan and pour the mixture of egg, sour cream, salt and pepper on top.
Bake at 190C/375F for 25-30 minutes.
Notes
If you can't find basil pesto, you can use fresh sweet basil, or dried basil. Even Italian seasoning will work!