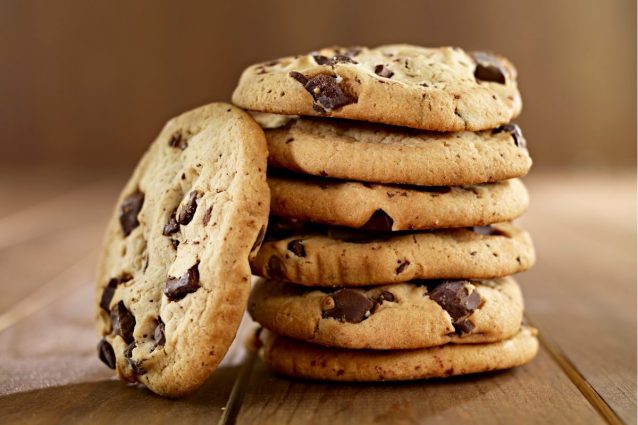 ingredients
24 large cookies

Butter

2 cups

• 717 kcal

Brown sugar

2 cups

Sugar

1 cup

• 470 kcal

Eggs

4

• 130 kcal

Flour

6 cups, all purpose

Cornstarch

2 tsp

• 338 kcal

Baking soda

1 1/2 tsp

Salt

1 1/2 tsp

• 1 kcal

Chocolate chips

4 cups

Walnuts

2 cups chopped
Calories refers to 100 gr of product
A fresh, warm chocolate chip cookie is one of the best desserts in the world and they are so easy to make as long as you have a great recipe. Well, look no further! This chocolate chip cookie recipe is going to be your new favorite as it makes thick, chewy cookies that are extremely hard to resist. While you can choose to add nuts or keep your cookies nut free, don't skimp on the chocolate as cookies loaded with chocolate chips are the best. You may also note that this recipe utilizes cornstarch which many chocolate chip cookie recipes do not have. This is to make your cookies extra thick so be sure not to skip this important ingredient. Get ready to devour several of these right when they come out of the oven!
Directions
Step 1
In the bowl of a stand mixer with a paddle attachment, cream the butter, brown sugar and regular sugar until light and fluffy. Scrape down the sides of the bowl with a rubber spatula when necessary to make sure everything is incorporated.
Add the eggs slowly and scrape down the sides of the bowl frequently to ensure the eggs and butter and thoroughly mixed together.
Add all the dry ingredients (except the chocolate chips and walnuts) to the bowl and mix to form a nice smooth batter. Add the chocolate chips and walnuts (if using) and mix briefly, just to incorporate.
Step 2
Use a large cookie scoop to scoop the dough onto a sheet tray lined with a silpat baking mat.
Bake the cookies for 8 minutes in a 425 ̊F oven. Remove the cookies from the oven and allow to cool for another 10 minutes on the sheet tray.
Move the cookies to a plate or cooling rack and enjoy!
Tips
After the 8 minute cooking time, the cookies may still look quite soft. As long as the centers are not shiny or completely liquid, they are fine! You want them to be a little soft so that when they cool they are still chewy. If you are worried they are not bakes, cook for one minute longer but as the oven is quite hot, don't leave them in too long!
This makes 24 very large cookies. If you want to make smaller cookies, just reduce your baking time to ensure you still have cookies with chewy centers- the 8 minute baking time is for big thick cookies!