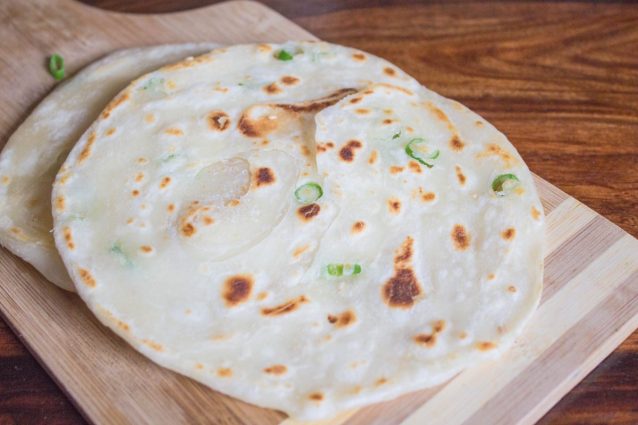 ingredients
Sesame oil

½ tablespoon, for flavored oil

peppercorns

½ teaspoon , for flavored oil

Bay leaf

1 , for flavored oil

Spring onion greens

1 tablespoon , sliced, for flavored oil

Flour

1 tablespoon, for the roux

Flour

¾ cup , for dough

Salt

¼ teaspoon, for dough

• 1 kcal

Sesame seeds

½ teaspoon

Spring onion greens

½ teaspoon , sliced, for filling

Sesame oil

½ tablespoon , for cooking
Calories refers to 100 gr of product
This recipe of crispy Chinese pancakes is actually pretty simple to enjoy a delightful spread of pancakes with the sauce of your choice! Though there are many different elements of this recipe to get the final product, you won't find them too tedious to prepare.
You may also use Schezwan peppercorns instead of the regular peppercorns. So, do try out this amazing dish to please your loved ones with a new preparation!
Instructions:
Heat all the ingredients to prepare flavored oil in a small pan. Let everything cook in the hot oil for about a minute and then remove everything from the small pan except for the oil. Add the flour to prepare roux in the same flavored oil and then cook it for about 2 minutes, while stirring continuously, until the flour turns very light brown in color.
Remove the roux from the pan and keep it aside. Now, add the flour and salt together in a bowl and then knead a soft dough using it with sufficient water. Divide the dough into two equal parts and then roll one half of the dough into a log on a clean and dry surface.
First, flatten the log with your fingers and then use a rolling pin to flatten it to an even width all along. Evenly spread the roux over the surface of the dough strip and then evenly sprinkle the sesame seeds and spring onion greens on it. Now, carefully roll the strip of the dough without pressing it too much. Hold the rolled dough upright and then press it to flatten it into a circle. Roll the dough into an even circle of about ¼ to ½ cm thickness. Heat a non-stick pan and then lightly apply some oil over it.
Place the circular dough on it and when the base of the pancake is slightly cooked sprinkle about 2 teaspoons of water all around it. Cover and then cook pancake until it is golden brown in color. Flip the pancake and then repeat the same process on the other side until the pancake is cooked on both sides to light brown color. Repeat the same process with the remaining dough. You may also gently crush the pancake to bring it all together so that the different crispy layers are visible. Serve hot and enjoy!
Tips
You can also add the white part of the spring onions to flavor the oil. You can also lightly apply some oil over the pancake to help cook it evenly. Do not sprinkle water over the pancakes.
Nutritional information (per serving): 295 Calories, 8g Total fat (1.1g Saturated fat, 3.3g Polyunsaturated fat, 3g Monounsaturated fat), 0mg Cholesterol, 292.6mg Sodium, 72.2mg Potassium, 48g Total carbohydrates (1.8g Dietary fiber, 0.2g Sugars), 6.7g Protein