ingredients
beef chuck

2 pounds

All-purpose flour

3 tbsp

Garlic powder

1/2 tsp

Extra virgin olive oil

3 tbsp

onion, chopped

1

vegetable juice

1 cup

Beef broth

4 cups

Worcestershire Sauce

1 tbsp

Fresh thyme

3 sprigs

Fresh rosemary

1 sprig

potatoes, peeled and cubed

3 cups

carrots, chopped

2 cups

celery stalks, chopped

1 cup

Peas

3/4 cup

Cornstarch

2 tbsp

• 338 kcal

Water

2 tbsp

salt and pepper to taste

• 1 kcal
Calories refers to 100 gr of product
We all love a delicious homemade beef stew, but sometimes it can be a hassle to make. Slow cooker beef stew is the easy alternative to making this hearty dish on the hob. It's convenient to make and incredibly rich and flavorful, with plenty of beef mixed with a tasty medley of fresh vegetables, herbs, and spices. It's a fantastic comfort dish you can make during the winter and is a perfect make-ahead recipe if you're looking to spend less time in the kitchen during the week.
How to Make Crockpot Beef Stew
Slow cooker beef stew is outrageously easy to make. Just brown the beef and saute the onions, then pop all the ingredients into your slow cooker, set it to high, and go about your day. The key to a great-tasting beef stew is using the right cut. In this case, opt for chuck steak. It's a tougher cut but becomes incredibly tender when cooked for a long time.
Tips for the Best Crockpot Beef Stew
– To make this recipe keto-friendly and gluten-free, use a low-carb gluten-free flour like almond flour to coat the beef, and make sure your cornstarch brand is gluten-free (most are).
– While 4 to 5 hours on high or 8 to 9 hours on low is usually long enough for this beef stew, you can cook it longer for more tender beef.
– For a richer flavor, add some red wine or stout beer to your beef stew. If you decide to try this, substitute 1 cup of beef stock for wine.
How to Store Slow Cooker Beef Stew
If you have leftovers or are making this recipe ahead, store them in an airtight container and enjoy them within 4 days. For long-term storage, you can freeze your slow cooker beef stew for up to 4 months.
Instructions
Whisk flour, garlic powder, salt, and pepper in a small bowl.
Add in beef and toss to coat.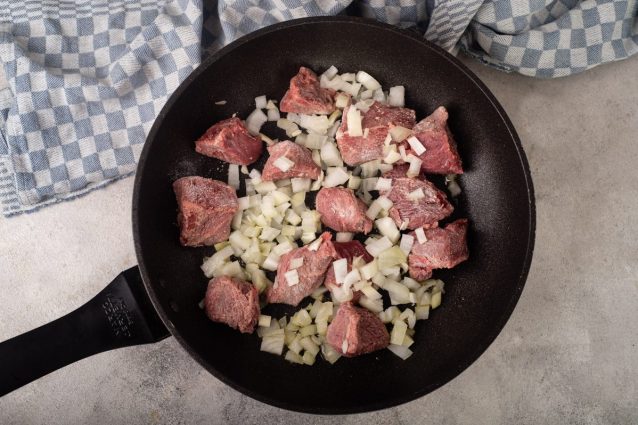 Saute the beef and onions, cooking until browned.
Pour in a little broth to deglaze the pan.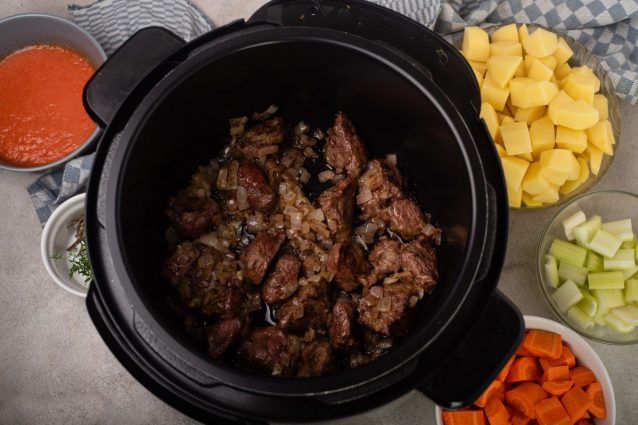 Place beef and onions in the slow cooker.
Add in carrots and potatoes.
Add in thyme, rosemary and celery.
Pour in the broth and vegetable juice, then add in the Worcestershire sauce.
Cook on high for 4 to 5 hours or on low for 8 to 9 hours.
Add in the cornstarch, water, and peas. Stir to combine.
Cover and cook for another 10 minutes. Serve and enjoy.
Notes
This recipe is for slow cookers that hold at least 6 quarts.
Coating the beef in the flour mixture helps it to brown, giving you a richer flavor.