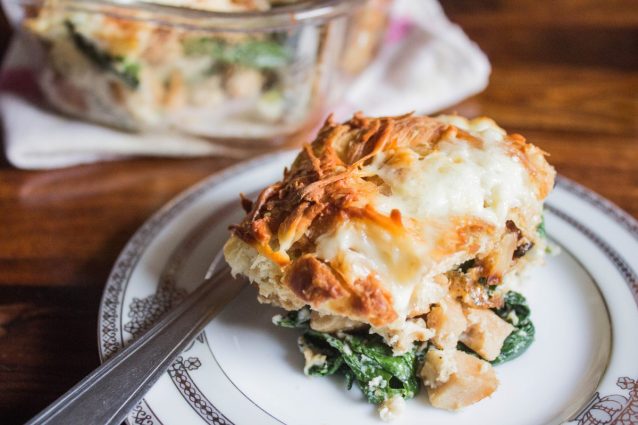 ingredients
Salted butter

½ teaspoon

Olive oil

2 tablespoons

White onion

½, peeled and chopped

ham or sausage

1 cup, diced

Spinach

50g, washed and drained

Eggs

3 large

• 130 kcal

Milk

¼ cup

• 49 kcal

Salt

½ teaspoon

• 1 kcal

Black pepper powder

½ teaspoon

Dijon mustard

1 teaspoon

Cheddar Cheese

½ cup

croissant

1 medium
Calories refers to 100 gr of product
Savor this quick and amazing breakfast or brunch preparation that is practically incomparable to any other dish! The nice crusty top and flavorful veggies make it a delicious treat that will be loved by people of all age groups. In fact, you can even serve it with a side dish or salad to have it for lunch or dinner.
Instructions
Heat a tablespoon of oil in a non-stick pan and cook onion in it on low heat until it turns soft and deep brown in color. Remove onions to another bowl. Add remaining oil to the same pan and cook ham or sausage in it until it turns golden brown at the edges.
Add spinach to it and cook everything together until the spinach wilts. Meanwhile, whisk the eggs with milk, salt, black pepper, and Dijon until well blended.
Preheat the oven to 175 degrees C and grease a baking dish with butter. Place the ham and spinach mixture into the buttered dish.
Then, evenly spread the onion over it. Now, add half of the cheese on top of the onion mixture and pour egg mixture in it. Roughly break the croissant into pieces and place them on top of everything. Spread the remaining half of cheese on top and then cover the baking dish with a foil.
Bake it covered for 20 minutes and then uncover and bake for another 5 to 8 minutes until the top is light brown in color. Slice, serve, and enjoy!
Tips
You can also assemble the ingredients in the dish as instructed a day before and then bake everything before serving. Use fresh spinach for better results.
Nutritional information (per serving): 165 Calories, 12g Total fat (5.1g Saturated fat, 1g Polyunsaturated fat, 5g Monounsaturated fat), 109.7mg Cholesterol, 462.2mg Sodium, 135.4mg Potassium, 6.6g Total carbohydrates (0.7g Dietary fiber, 2.3g Sugars), 9g Protein