ingredients
Beef (1 large slice)

800 grams

Ground pork

300 grams

Mortadella

100 grams

Eggs

2

• 130 kcal

Caciocavallo cheese

100 grams

Pecorino cheese

30 grams

Breadcrumbs

30 grams (⅓ cup)

Tomato sauce

300 ml (1 cup and ⅓)

Vegetable broth

200 ml (almost 1 cup) 

Extra virgin olive oil

60 ml (¼ cup)

Salt

as much as is needed

• 1 kcal

Pepper

as much as is needed 
Calories refers to 100 gr of product
Here's to you a rich and tasty second course, the falsomagro (fake lean) typical of the Sicilian gastronomic tradition. It is a roll of beef which, once cooked slowly and over a low flame, reveals a delicious and stringy filling only at the moment of cutting; hard-boiled eggs, minced pork, mortadella, pecorino cheese and caciocavallo cheese. All flavored with a tomato sauce which, having absorbed the taste of the meat, can be also used as a delicious sauce for pasta. An important recipe with guaranteed success, perfect for Sunday lunch or a party occasion, which will conquer everyone. So let's find out how to make the falsomagro in a few simple steps.
How to prepare the falsomagro
Collect the eggs in a saucepan with cold water (1), then put on the heat and cook for 8 minutes starting from boiling; drain them, pass them under cold running water and then shell them.
Take the slice of beef and beat it gently with a meat tenderizer, to give it the most uniform thickness possible (2). Salt and pepper lightly.
Mix the minced meat with the grated pecorino cheese and breadcrumbs (3).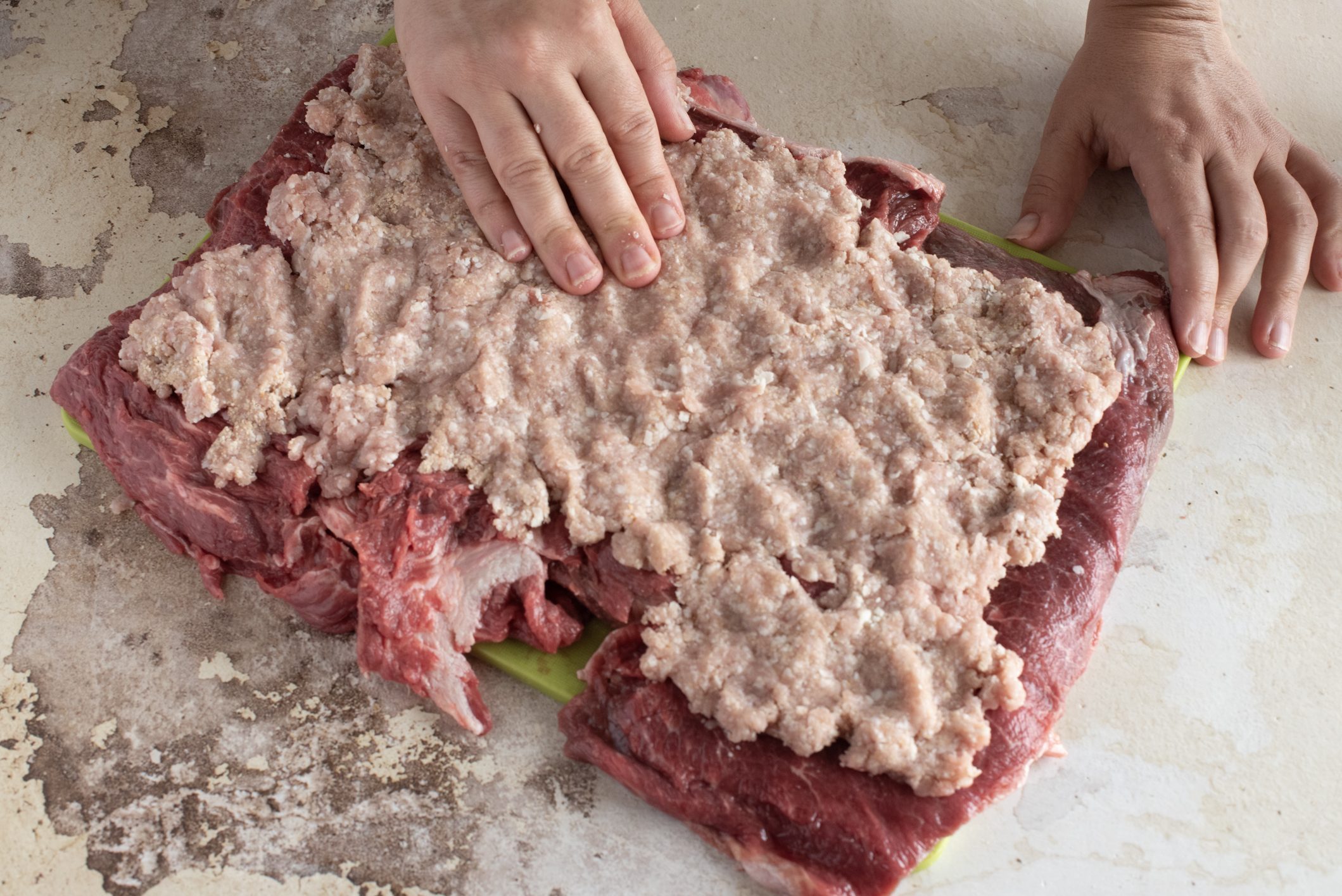 Spread the dough on the beef, forming a fairly even layer (4).
Cover with the slices of mortadella (5).
Distribute the eggs cut into quarters (6) and then the caciocavallo cheese cut into strips.
Roll up the roast and tie it with a rather tight kitchen string (7).
Heat the oil in a pan, arrange the roast (8) and brown it well on all sides.
When the meat is well sealed, add the tomato sauce (9) and the broth, cover with a lid and cook over low heat for about 1 hour.
Once cooked, turn off the heat and let the roast cool. Remove the kitchen string, transfer it to a serving dish, garnish with the chopped parsley and serve hot, cut into slices (10).
Preservation
The falsomagro can be preserved in an airtight container in the refrigerator for a maximum of 2 days.