ingredients
Butter

1 tbsp

• 717 kcal

Olive oil

2 tbsp

chicken breast halves, skinless, boneless

4

creole-style seasoning

2 tsp

avocados, peeled and pitted

2

fresh lime juice

1 tbsp

small tomato, diced

1

red onion, finely chopped

2 tbsp

garlic powder to taste

salt and pepper to taste

• 1 kcal

monterey jack cheese

4 slices
Calories refers to 100 gr of product
Listen up to all of you who follow a low-carb or keto diet, this recipe is for you! Well, guacamole chicken melt is so delicious, it's pretty much for everyone. But if you've been looking for a dish that can replace your love for chicken parmesan, this dish might just be what you're looking for.
It's an easy, low-carb recipe that happens to be healthy too (just ignore the cheese we say). Simply cook chicken breast, top with guacamole and cheese, and bake. What can be easier than that? And the payoff is amazing! You'll love the fresh Mexican flavors in each bite. Try it today—you won't be disappointed!
Guacamole Chicken Melt Ingredients
Chicken breasts – use any type of chicken fillet—chicken thigh fillets will also work (especially if you like darker meat.
Butter and olive oil – oil helps improve the flavor of the food you're cooking, while butter adds a richness that only butter can!
Creole spice – feel free to use your favorite seasoning. Taco spice will go really well with the guacamole and cheese!
Avocados – ripe Hass avocados work best in a guacamole recipe
How To Make Guacamole Chicken Melt
Start by cooking the whole chicken breasts (skinless and boneless) in a bit of olive oil and butter, making sure to season it well.
Transfer the chicken breasts to a baking tray and top with homemade guacamole (or use store-bought guacamole, we won't tell!). Finish off with a slice of cheese and bake until the chicken is cooked and the cheese is completely melted.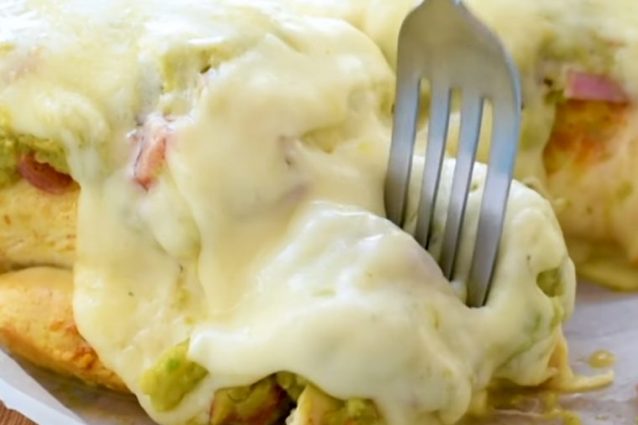 Tips
Use any cheese that melts well: mozzarella, Swiss, or pepper jack will all work in this recipe.
Instead of pan-frying the chicken breast, you can poach them—this is the healthier option.
Make it slightly more indulgent by adding strips of cooked bacon between the avocado layer and the cheese.
You can make this recipe in the oven. Bake the chicken breasts in the oven at 400°F for about 15 minutes. Top with the guacamole and cheese and bake another 10 minutes until the chicken is cooked.
If you don't mind adding a bit of carbs, serve this Guacamole Chicken Melt on top of a bed of Mexican rice.
How To Store Guacamole Chicken Melt
Store leftovers in an airtight container in the fridge for up to 3 days (not that the guacamole might change color and turn brown). Warm in the microwave before eating.
More Recipes You'll Like
Instructions
In a medium pan, heat the butter and olive oil.
Place the chicken in the pan once the butter has melted.
Sprinkle the chicken with Creole seasoning and cook for about 10 minutes per side.
Turn the chicken over, sprinkle with seasoning and continue cooking for about 10 minutes.
Add the avocados into a bowl, mash them with lime juice, tomato, onion, garlic powder, salt, and pepper.
Put about 1/3 cup of guacamole onto each chicken breast.
Cover with a slice of cheese, and bake at 350°F/180°C for 2-4 minutes.
Notes
When browning the chicken, don't be alarmed if it's still pink in the middle, it will continue cooking in the oven. Use a thermometer to check that the internal temperature of the chicken reaches 165°F. Then you know it's safe to eat.