Make your chicken breast very unique just adding honey!
Ingredients: 400g chicken breast, pepper, salt, lemon juice, 2tbsp honey, olive oil, 2tsp soy sauce, sesame seeds.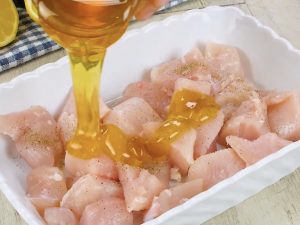 Directions:
1) Marinate the chicken in a mixture of lemon juice, soy sauce, and honey.
2) Put some butter in a pan and let the chicken cook for 10 minutes. Add the mixture used to marinate the chicken and cook for other 10 minutes.
3) Add a teaspoon of cornstarch and continue cooking until the sauce becomes creamy and the chicken tender.
4) Sprinkle with sesame seeds.
Try other recipe with chicken breast: Chicken and veggie kebabs: here's how to prepare them in just 5 minutes!
Ingredients: chicken breast, peppers, eggplant, bell pepper, salt, breadcrumbs, egg (beaten), flour.
Directions:
1) Slice the chicken breast and vegetables into strips
2) Place the slices next to one another and slide them onto skewers.
3) Cover them with flour, egg and then breadcrumbs.
4) Bake at 190°C for 15 minutes or deep fry them.