ingredients
elbow macaroni

8 ounces

Ground beef

1 pound

Italian sausage

1/2 pound

Chopped onion

3/4 cup

chopped green bell pepper

1/4 cup

Minced garlic

1 tsp

Dried oregano

1 tsp

Worcestershire Sauce

2 tbsp

Brown sugar

1 tbsp

dried red pepper flakes

1/4 tsp

Garlic salt

1/2 tsp

Diced tomatoes

14.4 ounces

provolone, shredded

1 cup

mozzarella, shredded

1 cup

sharp cheddar, shredded

1 ½ cups
If you've never heard of Johnny Marzetti casserole, you're in for a treat. This phenomenally flavorful easy ground beef casserole is a traditional dish from Ohio where it's popular for parties, potlucks, and other events thanks to its amazing taste and ability to feed large groups. Full of ground beef, cheese, vegetables, and a tasty tomato sauce layered over noodles, Johnny Marzetti is a delicious hearty comfort food that's super easy to prepare. You can bake it in your oven or use your slow cooker. No matter what method you prefer, you'll wind up with an amazingly tasty dish that is sure to please a crowd.
What is Johnny Marzetti?
Johnny Marzetti is a classic pasta casserole from the American Midwest made with pasta, ground beef, cheese, tomato sauce, and various fresh vegetables. The original version hails from Columbus, Ohio, and it's a popular comfort food that's not unlike American goulash.
Tips for Making the Best Easy Ground Beef Casserole
– Don't overcook the pasta. You want it to be al dente.
– While most Johnny Marzetti recipes call for mild Italian sausage, if you're a fan of spice, pick up hot styles instead.
– While ground beef stars in the classic Johnny Marzetti casserole, you can substitute it for ground pork or do a mix of the two meats.
– Add some pecorino or parmesan to your Johnny Marzetti casserole for a more complex cheesy flavor.
What to Serve with Easy Ground Beef Casserole
This hearty comfort dish is great with a variety of side dishes. Light salads, dinner rolls, steamed vegetables of the season, and garlic bread are all phenomenal with a generous helping of ground beef casserole.
How to Make Johnny Marzetti Casserole
Preheat your oven to 350°F. Lightly grease a casserole dish and set it aside. Make the pasta according to the instructions on the packet until it's al dente, then drain. Run cold water over the pasta, let drain again, and set to the side.
In a large skillet, cook the ground beef and sausage over medium heat until browned, about 8 to 10 minutes. Remove excess fat.
Add onions, bell pepper, garlic and oregano.
Stir well.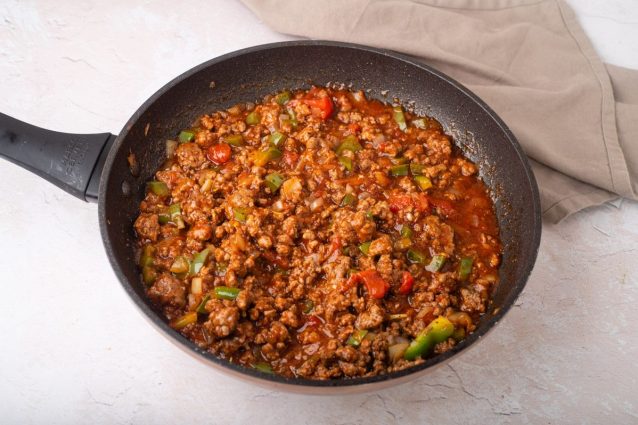 Add Worcestershire sauce, sugar, pepper flakes, and garlic salt. Saute until the vegetables soften, about 5 minutes. Pour in the tomatoes and tomato sauce, stirring to combine.
Transfer the pasta to the casserole dish.
Put the mozzarella and provolone in a layer over the pasta.
Add the tomato beef sauce.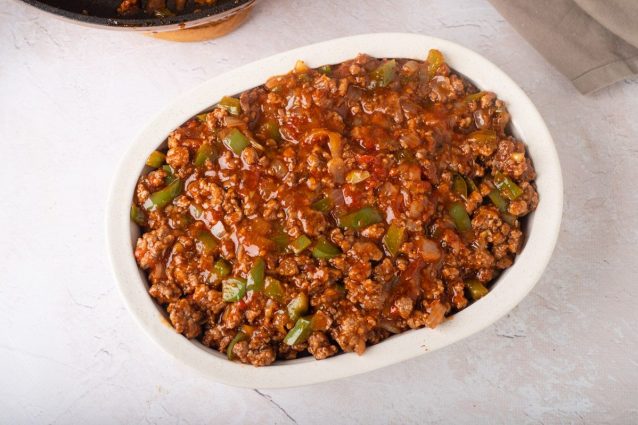 Cover any part of the casserole dish.
Wrap the casserole dish in foil and bake for 45 minutes.
Take off the foil and add a layer of cheddar cheese over the top of the casserole.
Bake uncovered for 5 to 10 minutes, or until the cheese has melted.
Notes
– Shred the cheese yourself for more even melting.
– Use a 9 x 13-inch baking dish for your casserole.
– Cover and store leftover Johnny Marzetti casserole in the fridge. Enjoy it within 4 to 5 days. You can freeze this ground beef casserole but bear in mind that pasta doesn't freeze well. If you want to make it ahead of time, simply make the sauce and freeze it once cool. When you're ready to bake, take your defrosted meat sauce, warm it up, prepare the pasta, and follow the recipe as outlined above.