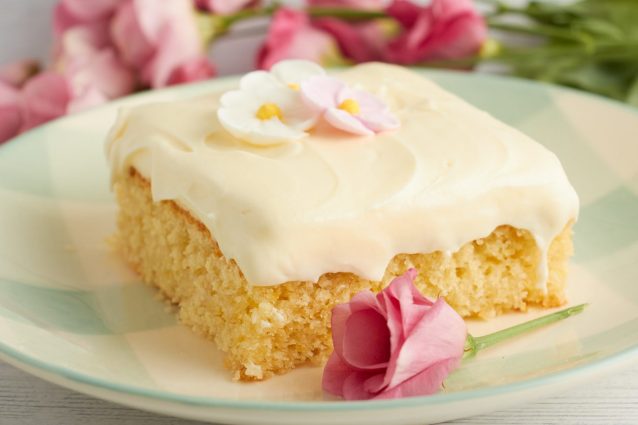 ingredients
All-purpose flour

2 ¼ cups

Baking powder

1 ½ teaspoons

• 156 kcal

Baking soda

½ teaspoon

Salt

¼ teaspoon

• 1 kcal

Unsalted butter

¾ cup, softened to room temperature

Granulated sugar

1 ½ cups

Eggs

3 large

• 130 kcal

Vanilla Extract

1 teaspoon

Sour cream

1/3 cup, room temperature

Buttermilk

1/3 cup(or regular milk)

Lemon zest

3 tablespoons (freshly grated)

Lemon juice

¼ cup fresh (use 1/3 cup for a stronger lemon flavor)

Unsalted butter

½ cup, softened

Cream Cheese

8 oz, softened

Powdered sugar

3 cups, sifted

Lemon juice

1 teaspoon, fresh

Salt

¼ teaspoon, to taste

• 1 kcal

Milk

1-2 teaspoons, as needed

• 49 kcal
Calories refers to 100 gr of product
This is a simple-to-make traybake, but it's impressive enough to be served as a dinner party dessert. The sponge itself has lemon zest throughout, and the buttermilk and sour cream keep the sponge moist, light and airy. The lemon cream cheese frosting makes a beautiful accompaniment to the sponge.
Instructions
Preheat the oven to 350 F/ 160 C fan/ gas mark 4.
Grease and flour a 9×13-inch baking pan.
In a medium bowl sift together the flour, baking powder, baking soda and salt.
In a large bowl beat together the butter and sugar until fluffy.
Then beat in the eggs and vanilla, followed by the sour cream.
Turn the mixer down to low speed and carefully beat in the flour mixture followed by the buttermilk.
Then turn off the mixer and stir in the lemon zest and lemon juice using a large rubber spatula or wooden spoon.
Pour the batter into the prepared pan and bake for 27-33 minutes, or until an inserted toothpick comes out clean.
Allow to cool fully before frosting. You can make this easier by chilling the cake in the fridge or freezer before frosting.
Cream Cheese Frosting
In a large bowl, beat together the butter and cream cheese until evenly mixed together.
Then slowly beat in the powdered sugar, turning off the mixer and scraping down the sides of the bowl as necessary.
Finally, beat in the lemon juice and salt and a teaspoon of milk if needed. Pour onto the cake.
Frost the cooled cake using a spatula or flat bladed knife.
Cut into slices and serve.
Tips
For the lemon flavor use lemon zest and freshly squeezed lemon juice. Bottled lemon juice is too tart for this cake.
Be careful not to over mix your cake batter or else your sponge can end up tough and chewy – having all the ingredients at room temperature before starting helps to avoid this.