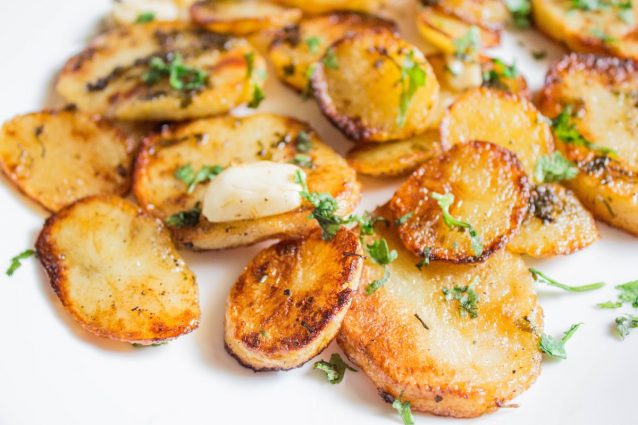 ingredients
medium potatoes

3, peeled and thickly sliced

Salted butter

¼ cup, melted

Fresh cilantro

1 teaspoon, finely chopped

A pinch salt

A pinch black pepper powder

Chicken broth

½ cup

Paprika

½ teaspoon

Fresh lemon juice

½ teaspoon

Cloves Garlic

2 large, peeled and crushed
This recipe of potato-based side dish is really simple to prepare and extremely flavorful! You will be delighted to taste its crunchy texture on the outside yet soft and perfectly cooked in every bite. Try out this recipe and we are sure you will never enjoy potato any other way!
INSTRUCTIONS:
Preheat the oven to 250 degrees C and line a baking tray with foil or butter paper.
Add cilantro, salt, and black pepper to the melted butter. Mix it all well. Place potato slices on the lined baking tray so that no two potato slices overlap each other. Generously coat the potato slices with butter mixture on both sides.
Bake the buttered potatoes for 10 to 15 minutes. Meanwhile, add paprika, lemon juice, and garlic to the chicken broth. Mix it well. Now, flip each potato slice and then pour the broth mixture over potatoes. Bake potatoes again for another 10 minutes or until lightly brown on top. Serve hot and enjoy!
TIPS:
Cut potato into even size. You can add slightly more broth, if required, to cover the potato slices very well.
Nutritional information (per serving): 166 Calories, 5.9g Total fat (3.8g Saturated fat, 0.4g Polyunsaturated fat, 1.7g Monounsaturated fat), 16.1mg Cholesterol, 225.4mg Sodium, 718.8mg Potassium, 26.1g Total carbohydrates (4g Dietary fiber, 1.5g Sugars), 3.1g Protein