ingredients
Eggs

4

• 130 kcal

Grated parmesan cheese

50 g

Butter

40 g

• 717 kcal

Salt

• 1 kcal

Pepper

to garnish (optional)

Cherry tomatoes

100 g
Calories refers to 100 gr of product
Omelette is a very easy and quick dish. It is made by beating the eggs with a pinch of salt, a sprinkling of pepper and a little grated parmesan cheese. The mixture is cooked in a pan with a knob of butter, then folded on itself in a crescent shape. The final result is a golden omelette on the surface but with a soft and pleasantly moist inside.
We propose the basic version but you can also enrich it with cold cuts, stringy cheeses and vegetables, then serve it at breakfast, or during brunch. So let's find out how to prepare omelette by following step by step instructions and tips.
Tips for making a Basic Omelette
For an perfect omelette be sure to avoid some common mistakes. The eggs must be very fresh and organic (if possible, buy those from the farmer or rely on a trusted dealer). Use them at room temperature and not cold from the refrigerator.
This preparation is the basic version but, if you like, you can enrich it with everything that your imagination suggests or that you have available in the refrigerator. Try cubes of cooked ham, sliced ​​speck, sliced ​​salami, various cheeses, sautéed mushrooms, sautéed spinach, fresh rocket, cherry tomatoes.
For a more neutral flavor, you can also omit the grated parmesan cheese; if you want a stronger taste, instead, replace it with pecorino cheese.
You can also add fresh aromatic herbs, such as oregano, mint or basil, for a fragrant and aromatic touch.
How to store an Omelette
The omelette can be stored in the refrigerator, inside a special airtight container, for a maximum of 1 day. Freezing is not recommended.
How to make an Omelette
Shell the eggs and collect them in a bowl. Add salt and pepper and beat lightly with a fork (1).
Add the grated parmesan cheese (2) and mix well.
Melt the butter in a non-stick pan with a diameter of about 24 cm (3).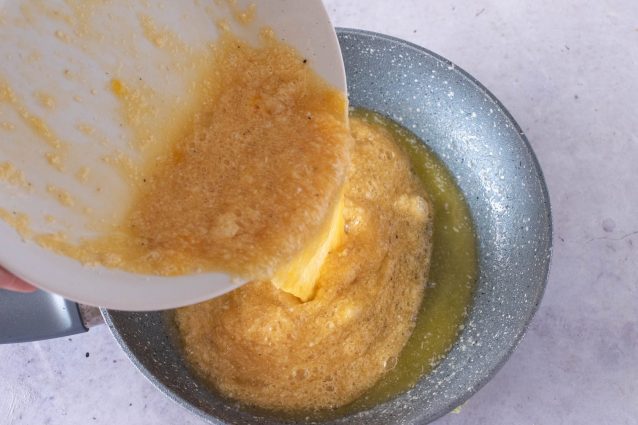 As soon as the butter starts to sizzle, pour the egg mixture (4), distributing it evenly on the bottom of the pan.
Let it thicken slightly, until the edges are firm and golden, and the central part is still very soft (5).
At this point, using a spatula, slide the omelette from one side of the pan and fold it in half (6). Continue cooking for a couple of minutes more.
Transfer to a serving dish, garnish with diced tomatoes and serve very hot (7).