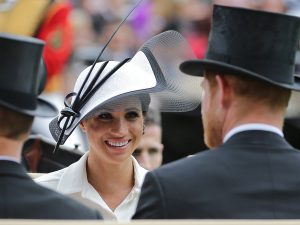 Not long ago, Prince Harry and Meghan Markle were on a tour to the continent down under, where they had a wonderful time. It was also around the same time that we came to know about Markle's pregnancy, which affected some of her food choices. Read on to know which one food did she refused to eat while visiting Australia?
Australia is a wonderful country and has a very diverse yet amazing terrain that any hard core traveler would love to explore! Ever since the royal wedding of Prince Harry and Meghan Markle, the royal couple has been visiting various countries far and wide. It is during a recent 16-day excursion to the Australian continent that the Prince and his better half were immersed in Australian culture.
Right from the Australian food to their native dance to knowing more about their diverse heritage, the parents-to-be deeply explored the rich culture of the continent down under. During this trip, the royal couple enjoyed everything tremendously except for one specific Australian food, or rather a delicacy.
While on their visit to the Charcoal Lane restaurant, the Duke and Duchess of Sussex were given a mini session on Australian delicacies where they indulged in a touch, taste, and smell experience. It is during this time that Markle showed her hesitance towards the finger lime.
The finger limes are an Australian delicacy and are similar to the much coveted and world famous caviars. When these finger limes are eaten, they just pop out some beautiful flavors in the mouth. During that session, it was optional for them to eat this food and the Prince tried it but his wife refused. However, she smelled it but chose to not eat it because she was pregnant.
The finger limes are actually pod shaped fruits with citrus flavors and pearls similar to that of pomegranate seeds. These sweet and sour flavored pearls can be used over sea foods, salads, sushi etc. As Markle wasn't sure how her pregnant body will react to the new food, she preferred to turn it down instead. This seemed a fair decision as it would have not been a wise idea to risk the life of future prince or princess.
Not just Markel, Prince Harry too avoided a certain spicier variety of foods such as pepper leaf. In fact, this spicy food is mostly given to the naughty kids, as it is a bit hot, and Prince Harry sure holds a reputation of being one himself!