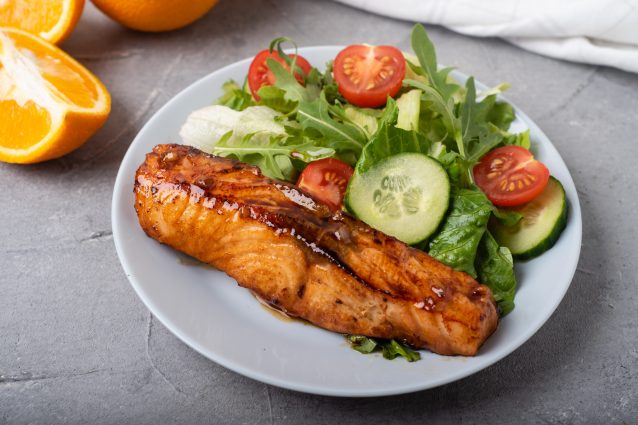 ingredients
Extra virgin olive oil

1 tbsp

Butter

2 tsp

• 717 kcal

salmon fillets

4 6-ounce

orange juice, freshly squeezed

1/4 cup

Honey

3 tbsp

Soy sauce

2 tbsp

garlic, crushed

4 cloves

salt and pepper to taste

• 1 kcal
Calories refers to 100 gr of product
With its delicious citrus-soy-honey marinade, orange-glazed salmon is a seriously delicious dish you can whip up in under 20 minutes. Just pop the salmon in the pan, add the orange juice, garlic, honey, and soy sauce, and reduce the mixture until you get a gorgeous, ultra-flavor sauce. It's perfect for busy weeknights or for those evenings where you want to make a simple dish that's packed with flavor. Orange glazed salmon is a tasty take on the ever-popular honey garlic glazed salmon and boasts the same crispy outside while the salmon itself is beautifully tender and moist. Healthy, and easy to make, don't be surprised if you cook orange glazed salmon again and again!
How to Make Orange Glazed Salmon
Making the orange glazed salmon is easier than you may think. Start by melting the butter in the olive olive in a pan and add in salmon fillets. Cook them for about 5 minutes (flipping step included). Add the orange juice until reduced, then stir in the garlic and cook for less than a minute. Shift the salmon to the side of the pan and add in the honey and soy sauce, then simmer until the sauce thickens. Now, it's time to coat the salmon in the sauce. Finally, taste with salt, pepper and a tablespoon of orange glaze. Serve and enjoy!
What to Serve with Orange Glazed Salmon
Orange glazed salmon goes well with so many side dishes. Serve it over steamed or fried rice, with a side of roasted asparagus and a baked potato, noodles, or your favorite salad. Great low-carb sides to try with this orange glaze salmon are cauliflower rice, zucchini noodles, and lemon roasted Brussels sprouts.
Tips for Making the Best Orange Glazed Salmon
– Freshly squeezed orange juice is the way to get the best flavor in your orange glaze. You could also try other citrus fruits like tangerines, blood oranges, lemons, or limes for a different take on this easy recipe.
– If you like a bit of char on your salmon, pop it under your broiler for the last 2 minutes of cooking. Just don't forget to preheat your broiler.
– Garnish your salmon fillets with chopped green onions to add a little color.
– Like spice? Sprinkle half a teaspoon of chili flakes into the marinade to make a spicy version of this tasty recipe.
How to Store Orange Glaze Salmon 
Place leftover cooked salmon in an airtight container and refrigerate for up to 4 days.
Instructions
Melt the butter in the olive oil over medium-high heat.
Cook the salmon skin-side up for 3 minutes, then turn it over and cook on its skin for another 2 to 3 minutes.
Add the orange juice to the skillet and cook with the salmon for about 1 minute, or until the liquid is reduced by half.
Stir in the garlic and cook until fragrant, about 30 to 45 seconds.
Shift the salmon to the side of the pan then stir in the honey and soy sauce.
Simmer until the sauce thickens and reduces, then coat the salmon in the sauce.
Garnish with salt, pepper, and a spoonful of the orange glaze drizzled over the salmon.
Notes
If you're watching your sodium intake, use low-sodium soy sauce and unsalted butter.