ingredients
Potatoes

2 large

Bacon

150 gr

Chives

50 gr

Cream Cheese

1/2 cup

Yellow cheese

1/2 cup, grated
These potatoes are delicious. First you make the traditional baked potato but then you take the stuffing, you puree it and you mix it with cheese and cream and bake them again.
The first phase of the recipe has to be the same in all cases, however, to make the second part of the recipe, the filling may vary according to our tastes, although being a recipe so "American" I think there is use their fillers.
As well as the potatoes are cheap and can be filled almost anything, they are the perfect recipe at the end of the month: serve to give way to leftover food that you have not used. The important thing is to accompany it with a little golden onion in the frying pan which, along with a yogurt-like milk, cream cheese or cream (if you have no proof with avocado, finely chopped zucchini or any very sweet vegetable), will make this potato soft and creamy.
To speed up the cooking process a bit, you can make the first part by boiling the whole potato instead of baking it. The result will be something different, but it will also be good. And if you do not have leftovers of stew, put the meat you like most.
Here I show you a simple way to prepare them, let's go!
Wash the potatoes
Preheat oven to medium low heat.Wash the potatoes very well with a brush, check carefully that they do not have dirt. When potatoes are well cleaned lined with foil, do not allow open spaces to make the potatoes juicy.
Bake the potatoes
Bake the potatoes until they are soft, you can try to introduce a wooden toothpick. On a baking sheet with waxed paper, place the bacon strips. Lay the bacon strips out flat on the baking paper, leaving space so they do not overlap. It should be simmered, when they are toast removed the oil. When it is cold, crumble the bacon into small pieces.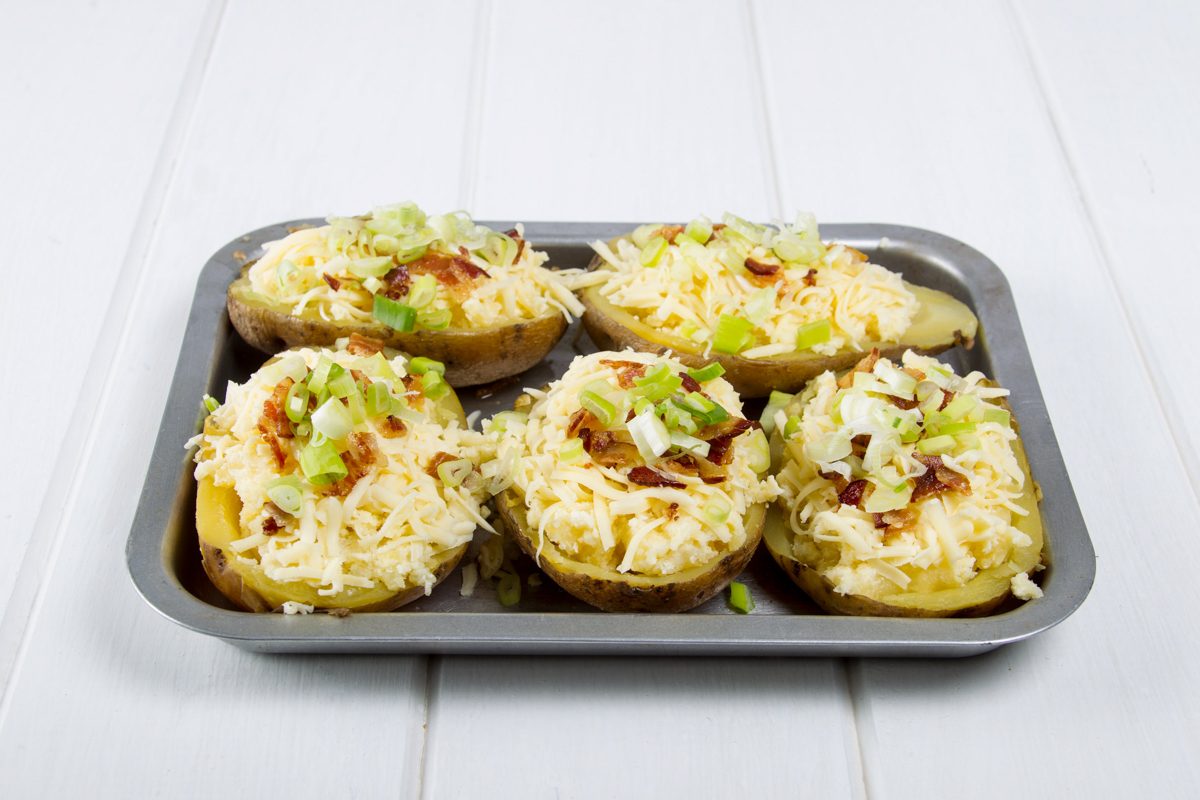 When the potatoes are cold, chop the potatoes in half, lengthwise. With a spoon, remove a little of the potato, making a hole in the center. Mix that remaining mashed potatoes with the cream cheese and refill the potato shells, it should be slightly bulky.
A delicious way to serve twice baked potatoes
Cover with grated cheese and bacon each half, oven-baked until potatoes are browned and cheese is melted. Meanwhile, chop the little onion. Remove the potato shells from the oven, add some chives.