ingredients
Potatoes

4, medium

Eggs

4

• 130 kcal

Bacon

7 oz

Cheddar Cheese

½ cup

Onion

1, medium

Olive oil

1 tbsp

Parsley

1 tbsp

Salt

• 1 kcal

Pepper
Calories refers to 100 gr of product
Potato skillets are perfect for making for breakfast. You can make them the night before, so they take less time to be served in the morning. These simple pan-fried potatoes are made with bacon and cheddar cheese and can also be served as a side dish in a pan.
When you're not sure what to prepare and don't have much time, you can always consider an easy to make and fast recipe, that combines good nutrients and fabulous flavor. Don't complicate your life, try this special omelet! The combination of eggs (with its high-quality proteins), potatoes (good source of calories) and bacon (also good providing calories and so delicious) make a perfect Breakfast or Dinner dish. This potato skillet can be accompanied with your favorite bread and you can prepare something tasty for family or friends in less than an hour.
Instructions
To start, prepare all the ingredients. Chop the onion very finely and set aside in a small bowl. Peel the potatoes and cut them up very thinly and set aside in a second bowl.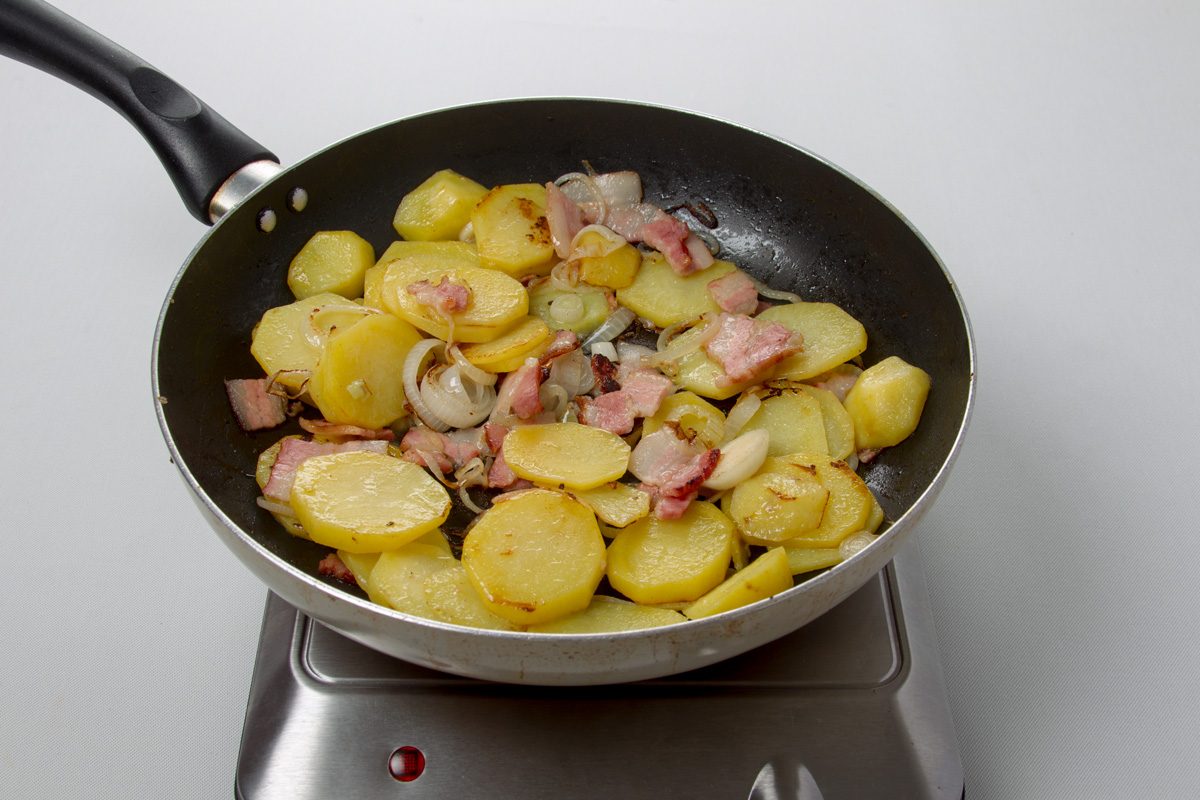 Now cut up the bacon and set aside. Grate the cheese and set aside. Finally, chop the parsley finely and set aside. Preheat the oven at a medium-high temperature. Choose a medium size skillet, suitable for being used in the oven. Put the skillet over medium heat and add the olive oil. Once the olive oil is hot, add the onion and cook continuously stirring for a few minutes. When the onion becomes transparent, proceed to add the potato slices covering the pan. At this point add a little salt.
Keep the skillet over heat until the potatoes soften. Do not wait until the potatoes are fried, just soften them. Then add the bacon and cook. Keep cooking until the bacon has browned. Mix everything very well. Now add the eggs in a medium bowl and beat them a little. Add the eggs to the skillet. Make sure the eggs cover the whole mixture of potatoes, onions and bacon. Season with salt and pepper to taste.
Add now the grated cheddar cheese and the fresh parsley. Remove from the heat. Then bake in the oven until the eggs are ready and the cheese has melted. Once the cheese has melted remove from the oven. And your potato skillet is ready to be served immediately.
Tips
What type of potato is best?
The best potatoes for frying in a pan are russets, red potatoes or Yukon Gold.
Should you rinse potatoes before frying?
Rinse or soak the potatoes for an hour (or, better yet, overnight) to remove some of the starch from the surface and prevent the sugars from browning before the potatoes are cooked.
Nutrition Facts
Nutrition Facts Servings: 6 Amount per serving   Calories 384 % Daily Value* Total Fat 22.3g 29% Saturated Fat 7.8g 39% Cholesterol 155mg 52% Sodium 900mg 39% Total Carbohydrate 24.9g 9% Dietary Fiber 3.8g 14% Total Sugars 2.7g   Protein 20.9g