ingredients
Lean ground beef

1 ½ pounds

onion, diced

1

Garlic, minced

1 clove

Chicken broth

6 cups

potatoes, peeled and diced

6 cups

frozen vegetable mix

2 cups

Dried basil

3 tsp

Dried parsley

2 tsp

Whole Milk

1 ½ cups

Cornstarch

2 tbsp

• 338 kcal

velveeta cheese, cubed

8 ounces
Calories refers to 100 gr of product
Ultra-comforting hamburger potato soup is a simple recipe that's chock-full of healthy ingredients. Made with ground beef, potatoes, and an array of nutritious vegetables (which you can customize to your family's preferences), hamburger potato soup is a wholesome meal that tastes fantastic and is great to make all year round, although it's particularly good in the winter. Its rich, creamy texture comes from milk and cheese, and it has a savory flavor enhanced by the addition of dried herbs. This easy, delicious soup takes less than an hour to prepare, which is perfect for busy evenings.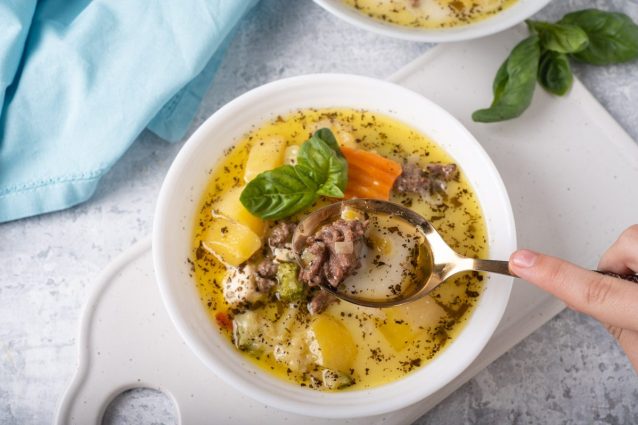 Tips for Making the Best Easy Hamburger Potato Soup 
– For a more flavorful soup, sprinkle in a dash of your favorite seasonings. Oregano, paprika, and cayenne pepper are all great options. 
– Use a floury potato like Russets for your soup. They'll give it a thicker, heartier texture.
– Cheddar, gouda, or mozzarella are all excellent alternatives to Velveeta, or you could use a mix of cheeses.
– Store hamburger potato soup for up to 4 days in the refrigerator. You can also freeze it for up to 1 month and reheat it on the stove top or in a slow cooker.
What to Serve with Hamburger Potato Soup
You can enjoy this great comfort dish on its own since it's so rich. Otherwise, you can serve it with dinner rolls, butter bread, or garlic knots.
How to Make Hamburger Potato Soup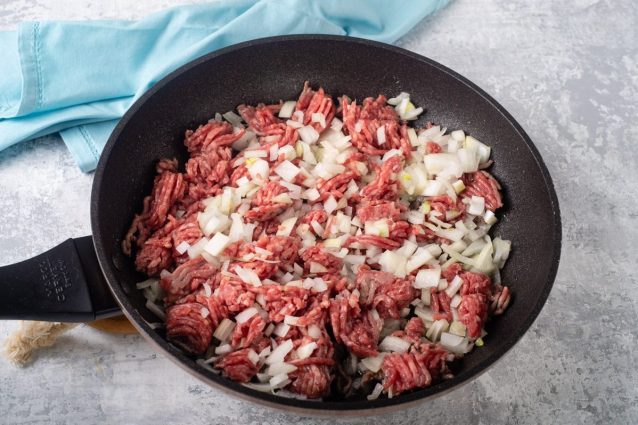 Cook the beef and onions in a large pan over medium heat until the onions are soft and translucent and the beef is browned. Remove excess fat.
Stir in the garlic, cooking until fragrant, about 45 seconds to 1 minute.
Transfer the beef to a large soup pot.
Add the potatoes.
Add in broth, vegetables, dried basil, and parsley to the soup pot. Lower the heat to a simmer and cook until the potatoes become tender about 15 minutes.
In a small bowl, whisk the cornstarch and milk.
Stir the milk and cornstarch mixture into the soup.
Add the cheese to the soup, stirring occasionally until it has melted.
Serve immediately.