ingredients
for the cupcakes

sour cream, room temperature

1/4 cup

buttermilk, room temperature

1/2 cup

Eggs

2

• 130 kcal

Coffee

1/4 cup

Vegetable Oil

1/3 cup

Vanilla Extract

2 tsp

All-purpose flour

1 1/2 cups

Granulated sugar

1 1/3 cups

Cocoa powder

1/4 cup

Baking soda

1 tsp

Kosher Salt

1/2 tsp
for the buttercream

Confectioners sugar

1 2/3 lbs

butter, room temperature

1 lb

pure vanilla extract

1 tsp

Whole Milk

1 tbsp

Food coloring

to assemble

Mini chocolate chips

red m&ms
Calories refers to 100 gr of product
Christmas is the perfect time to get your kids involved in making festive treats. If you're looking for a fun, easy recipe that your kids will adore baking with you, try these delicious Santa cupcakes. Made from moist, tender chocolate cupcakes and decorated to look like jolly Saint Nick, Santa cupcakes are a delight to make and a joy to eat.
Santa cupcakes are ideal for serving to guests over the holiday season, or as a fun treat to make even if you aren't expecting family and friends at your door this Christmas.
How to Make Santa Cupcakes
Kick off the Christmas holiday by whipping up a batch of homemade Santa cupcakes! Ready to start baking? Let's dive in! Line a muffin tin with cupcake liners and set it aside. Combine the dry ingredients in a large bowl, then place all the wet ingredients into a second bowl. Stir them well so they're well mixed, then combine the buttermilk mixture and flour mixture until you get a nice, smooth batter. Pour the cupcake batter into the liners and bake your cupcakes for 15 to 20 minutes. They should have a springy texture by the time they've finished baking. Take them out of the oven and let them cool down to room temperature.
While the cupcakes are cooling, make the frosting. Beat the butter until airy and light, then add in the powdered sugar, vanilla, salt, and milk. Beat to combine, then evenly divide the frosting into 3 bowls. Drop red food coloring to one bowl, add food coloring with whichever flesh tone you prefer to use to a second bowl, then leave the last bowl white. Finally, for the fun part: decorate your cupcakes to look like Santa Claus. Use the flesh-colored buttercream for his face, the red for his hat, the white for his beard and as the trim for his hat, then use chocolate chips for eyes and a red M&M for his nose. Now arrange them on a serving tray and watch them disappear.
Tips for the Best Santa Cupcakes
Use room-temperature ingredients to make your Santa cupcakes; the ingredients will blend together more easily!
Your cupcakes are ready to come out of the oven when a toothpick inserted into the center comes out relatively crumb-free. The cupcakes should be springy to touch.
If you prefer not to use sour cream, plain yogurt makes a fantastic substitute.
Don't add too much flour to your cupcakes. Make sure you measure it properly.
Add a hint of peppermint extract to give your cupcake batter or to the buttercream to give them a festive flair.
Leave out the cocoa powder to make a vanilla version of Santa cupcakes.
Adding coffee intensifies the chocolate flavor of the cupcakes, but you can always leave it out.
What is the Best Frosting for Santa Cupcakes?
American buttercream is the gold standard for Santa cupcakes. It's sweeter and has a firmer texture which makes it ideal for decorating.
If you prefer a less sweet type of buttercream, Swiss or Italian buttercream are other options you can use, but they may not hold their shape as well.
Decoration Ideas for Santa Cupcakes
There are plenty of other fun ways to decorate your Santa cupcakes. You can use mini marshmallows or coconut flakes to make the beard instead of using white buttercream.
Mini brown M&Ms can be used for the eyes.
Use white chocolate chips turned upside down for the pompom and edge of Santa's hat. Get creative!
How to Store Santa Cupcakes
Keep your cupcakes in an airtight container at room temperature for up to 2 days. They'll last in the fridge for up to 5 days but may dry out slightly when refrigerated.
Instructions
Preheat your oven to 350F. Line a muffin tin with cupcake liners.
Sift the flour, sugar, cocoa powder, baking soda, and salt into a large bowl.
In a second bowl, pour the sour cream, buttermilk, and eggs.
Add the coffee, vegetable oil, and vanilla extract, then whisk to combine.
Pour the buttermilk mixture into the flour mixture, and whisk until just combined.
Pour the batter into the liners.
Spread the batter evenly.
Bake for 15 to 20 minutes. Remove from oven and leave to cool to room temperature.
To make the buttercream frosting, beat the butter until airy and light. Add in the powdered sugar, vanilla, salt, and milk. Beat to combine, then evenly divide the frosting into 3 bowls. Add red food coloring to one of the bowls. Add food coloring with whichever flesh tone you prefer to use. Transfer the white buttercream to a piping bag.
To assemble the cupcakes, cover the top of each cupcake with flesh-colored buttercream.
Spread the red buttercream over the top third of each cupcake.
Add a dot of white buttercream to make the end of Santa's hat.
Make a line for the trim of the hat. Place two mini chocolate chips point-side down for the eyes.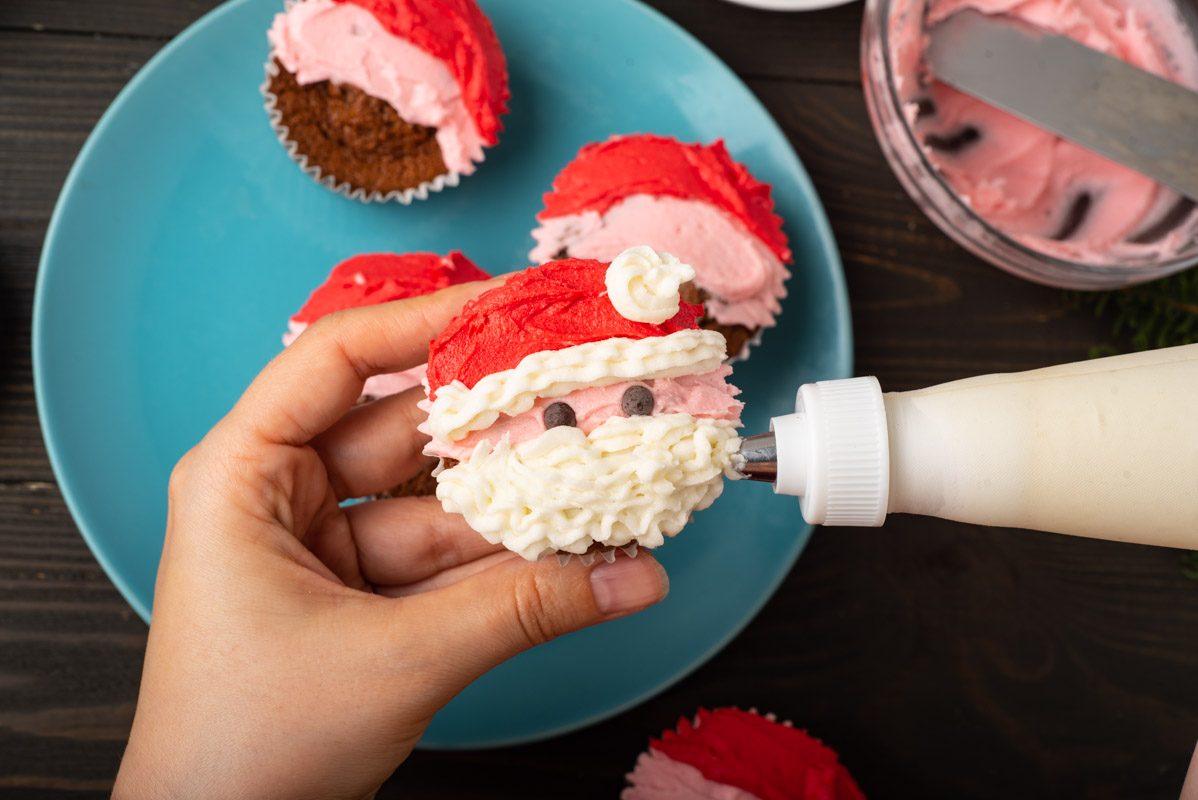 Pipe the white buttercream on the bottom half of the cupcake in small whirls to form a beard.
Place a red M&M in the center of the cupcake for a nose.
Serve and enjoy!
Notes
Use a high-quality Dutch-processed cocoa powder. You'll taste the difference!