ingredients
Potatoes

800 g

All-purpose flour

150 g

Grated parmesan cheese

40 g

Egg

1

• 130 kcal

Salt

• 1 kcal

Pepper

for the stuffing

Cooked ham

200 g

smoked scamorza

100 g

Grated parmesan cheese

50 g
for the egg wash

Egg

1

• 130 kcal
Calories refers to 100 gr of product
The savory potato roulade is a creative recipe to enjoy the flavor of a delicious savory pie in a different way. Quick and easy, it is made from a very soft and light boiled potato dough, similar to the gnocchi one. Once spread, it is stuffed with cooked ham and smoked scamorza cheese, then rolled up and finally baked in the oven until golden brown.
Soft and with a stringy heart, the savory potato roll can be served as an appetizer or main course, accompanied by a fresh salad, at a family lunch or dinner. This recipe will win over children and adults. So let's find out how to make it by following our recipe step by step.
Tips for the Best Potato Roulade
The potato-based mixture must be soft but still firm and workable. If it sticks to your hands, you can adjust its texture by adding another pinch of flour. It is preferable to use yellow-fleshed potatoes which, when firm and dry, lend themselves perfectly to this kind of preparation.
The potato roll is suitable for many different fillings. In our recipe we used cheese and ham, but you can vary by adding the ingredients you prefer or have available in the refrigerator. You can also add grilled or sautéed vegetables, such as zucchini or spinach.
The important thing is to add a stringy yet dry cheese, such as provolone, scamorza cheese or mozzarella for pizza, so that, when it melts, it does not wet the base of the savory pie. If you use fresh fiordilatte, squeeze it well, cut it into slices and then let them drain for a few hours in the refrigerator.
You can made the potato roulade in advance and bake it just before serving. Enjoy it hot and stringy, or cold together with a seasonal mixed salad.
How to store Savory Potato Roll
The potato roll with ham and cheese can be stored in the refrigerator, inside a special airtight container, for 1-2 days; at the time of consumption, heat it for a few minutes in the oven, just long enough to melt the cheese.
How to make Savory Potato Roulade
Boil the peeled potatoes in boiling water, until they are very soft. Drain them, peel them and transfer them to a bowl, then mash them with a potato masher until they are reduced to a puree (1).
Add the egg, flour, grated cheese and a pinch of salt (2).
Add a pinch of pepper and knead everything until you get a dough similar to that of gnocchi (3).
Arrange a sheet of cling film on a work surface and roll out the dough with a rolling pin to a thickness of about 1 cm (4).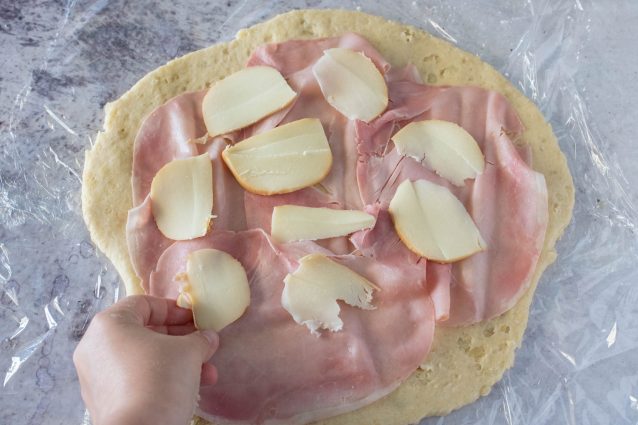 Stuff with ham and scamorza cheese cut into slices (5), forming two layers in all.
Sprinkle with grated cheese (6).
Using the cling film, wrap the dough until you get a roll (7).
Arrange the roll in a pan, lined with a sheet of parchment paper, and brush the surface with beaten egg (8).
Bake the roll in a convection oven, with the grill on, at 350° F for about 25 minutes, making sure that the surface does not darken too much. Remove from the oven, cut into slices and serve (9).