ingredients
All-purpose flour

2 1/2 cups

toasted sesame oil

1 tbsp

Boiling water

1 cup

Chicken fat, warmed (or vegetable oil)

1/3 cup

Bunches scallions, thinly sliced

2 bunches

Vegetable oil, divided (plus more for brushing))

8 tbsp

salt to taste

For the sauce

Unseasoned rice vinegar

3 tbsp

Soy sauce

2 tbsp

Chili oil

1 tsp

White sugar

1/2 tsp

• 392 kcal

crushed red pepper flakes

1/4 tsp
Calories refers to 100 gr of product
Crunchy, chewy, with just the right amount of flakiness, scallion pancakes are a phenomenally delicious Chinese street food that is often found on Chinese takeout menus. These yummy pancakes are also known as cong you bing, and people enjoy them as part of savory breakfast or as an appetizer. That said, these savory pancakes are so tasty, you can cook up a batch for any meal or as a snack. The recipe is a bit of a labor of love, however, the results are well worth the effort!
What to Serve with Chinese Scallion Pancakes
A chili soy sauce is usually served alongside scallion pancakes. Rice vinegar brings a mouthwatering tang to the sauce, while a little sugar tempers some of the chili heat. You can also serve scallion pancakes as a side for your favorite Chinese dishes.
How to Make Scallion Pancakes
In a large bowl, combine the flour and salt. Add the sesame oil and hot water to the flour, mixing to form a shaggy dough.
Lightly flour a surface and knead it until you get a smooth, supple dough, about 5 minutes. You can add more flour if necessary. Cover with plastic wrap or a clean damp towel and let the dough rest for an hour.
Cut the dough into 8 equal pieces. Lightly flour your work surface. Using a rolling pin, roll out each piece as thin as possible. Dip a pastry brush in the chicken fat and brush 2 teaspoons of fat onto the pancake, then sprinkle over ¼ cup of scallions. Add a dash of salt.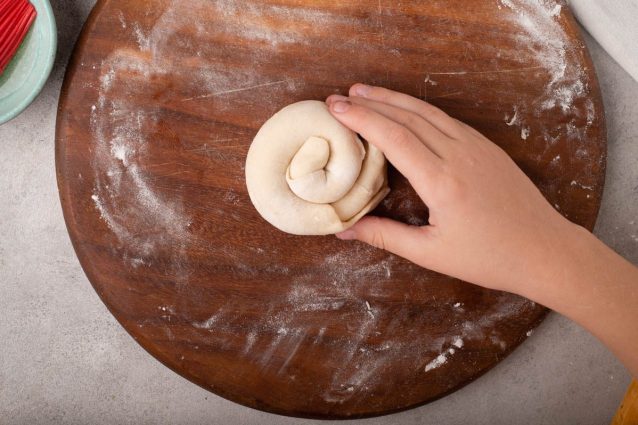 Roll the pancakes to form a thin cylinder, then coil them into a roll (as you would with a cinnamon roll). Cover with cling film or a clean damp towel and let the rolls rest for about 15 minutes.
Take out one coil of dough, leaving the others covered. Place on a lightly floured surface and roll out to form a 5" disk. Repeat until all the coils have been rolled out. Stack them, using baking paper to keep them separate.
Heat vegetable oil over medium-low heat. Fry one pancake at a time, about 8 to 10 minutes or until golden brown and crispy. Be sure to flip regularly to avoid burning the scallions. Place cooked pancakes on a cooling rack to rest for 5 minutes. Then cut into wedges, and enjoy warm with soy dipping sauce.