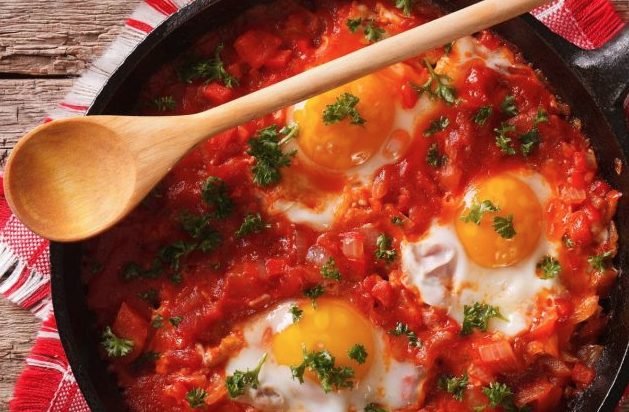 ingredients
Eggs

4

• 130 kcal

Peeled tomatoes cut in small pieces

400gr

Onion

1/2

Sea salt

as much as it is needed

Sugar

1 pinch

• 470 kcal

Black pepper

as much as it is needed

Basil or parsley

as much as it is needed
Calories refers to 100 gr of product
Shakshouka is a tasty and nutritious course perfect for any time of the day: for a substantial breakfast, for lunch, or also for a quick dinner, especially when we do not have so many things in the refrigerator, but usually you always have eggs! To prepare them, just fry the onion in a frying pan with extra-virgin olive oil, then add the peeled tomatoes and finally the eggs to be simmered in tomato sauce. Once ready, you can present them at the table directly in the frying pan with a few leaves of basil or parsley, and then serve them individually, accompanied by plenty of good bread.
Instructions
Cut the onion in half, chop it finely and let it dry in a frying pan with extra-virgin olive oil on low heat. (1) Then add the peeled tomatoes with a pinch of salt and sugar (to reduce the acidity of the tomato), and a bit of pepper.
Cook them over low heat for 10/15 minutes. Now, add the eggs: create some spaces between the tomatoes, a sort of nest in which to lay down the eggs. (2) Cook them between 7 and 12 minutes, the times vary depending on how much you want to cook the egg yolk.
However, the eggs will be cooked when the albumens will become white. Once ready, sprinkle them with parsley or add a few leaves of basil, serve them very hot at the table (3) and with plenty of bread.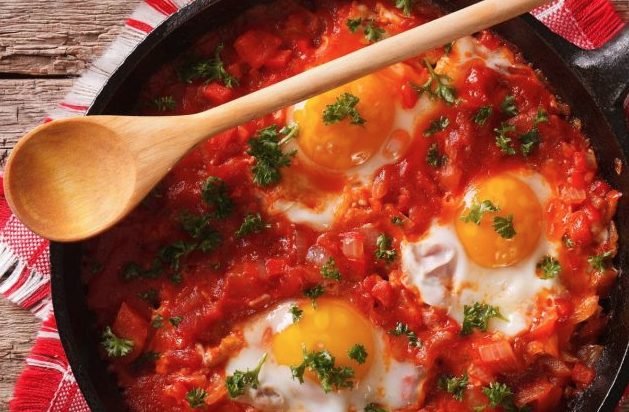 What to serve with this shakshuka?
It is traditionally served for breakfast with warm pita bread, challah, or naan.
What wine goes with shakshuka?
You can accompany the dish with a full-bodied, fresh white.
Tips
Instead of peeled tomatoes, you can also use fresh cherry tomatoes that will give even more flavor to your eggs. In this case, first blanch them in boiling water for a few minutes, remove the skin, cut them into small pieces and cook them in a frying pan with the onion for 5/6 minutes, adding salt and pepper.
Always use eggs at room temperature: in fact the eggs too cold could collapse in contact with the hot sauce. Then try to separate the eggs from each other, to prevent them from sticking together.
To give a spicy note to your tomato eggs, you can also add a bit of chili pepper or paprika.