ingredients
Shrimps

32

Not too ripe avocado

2

Extra virgin olive oil

as much as is needed

Pink pepper

as much as is needed

Lime

1
Shrimp skewers are an easy and really tasty appetizer that can be prepared in just a few minutes. You can also use this recipe as a second course, accompanying the skewers with a fresh salad. In the version you find here, the addition of avocado, together with the lime sprinkling, give this dish a delicate exotic touch, as well as a quantity of monounsaturated fibers and fats, useful to fight diabetes and defend the heart. The shrimp skewers with avocado and lime will prove to be a precious recipe for a fast dinner with which to amaze guests and family when you don't have so much time to prepare something, but you don't want to neglect taste and health anyway.
How to prepare shrimp skewers with avocado and lime
Rinse the shrimps under running fresh water and pat them dry with paper towels. Then take one at a time and take the head off (1).
Remove also the carapace and, using a well-sharpened knife with a smooth blade, cut the back of the shrimp up to the intestines (2).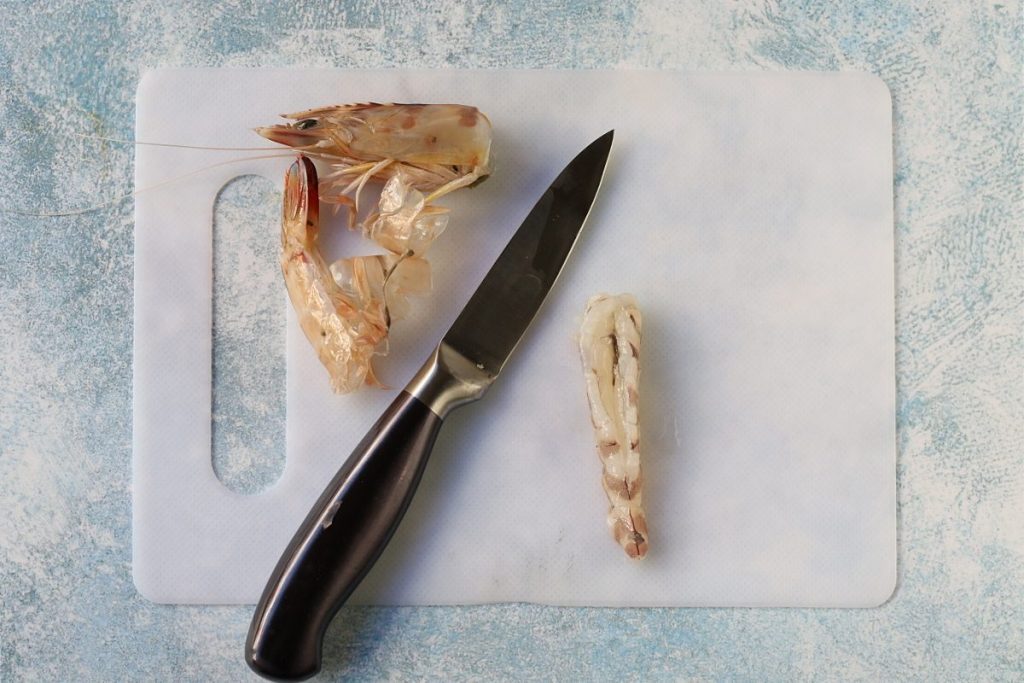 Remove the shrimp intestines (3) with the tip of the knife. Proceed in the same way with all the other crustaceans.
Cut the avocado horizontally, following the direction of the length. Then remove the pulp by taking it with a spoon, taking care to slide it in contact with the peel of the fruit (4). Slice the pulp.
Stack the shrimps and avocado slices alternately using 2 sticks for each skewer: in this way you will keep the shrimps straight and they will not curl during cooking. Then brush them with a little oil (5). Then heat a non-stick frying pan and briefly blanche them on both sides. Serve with a sprinkling of lime and pink pepper.
Tips
Once you have learned about the cleaning and cooking of the shrimps, you can enrich these skewers with the vegetables you prefer, as long as they are ingredients that require short cooking. You can serve your skewers accompanied with a yogurt sauce or with a tzatziki, which go well with the taste of the shrimps but also with the lime flavoring.
Preservation
We advise you to eat the shrimp skewers with avocado and lime immediately, to avoid that the lime flavoring covers the taste of the skewers and that they lose their fragrance.