ingredients
Warm water

1 ½ cups

Honey

2 tbsp

Active Dry Yeast

2 ¼ tsp

Extra virgin olive oil

2 tbsp

Bread flour

3 ½ to 4 cups

Salt

1 ½ tsp

• 1 kcal
Calories refers to 100 gr of product
No-knead skillet bread is a super simple homemade bread that requires little work and offers fantastic flavor. This delicious skillet bread is ideal for beginner bakers – just put the ingredients into your stand mixer, let the dough rise, and voila! In about an hour and a half's time, you'll have a gorgeous freshly baked loaf of bread that rivals anything out of your local bakery. This recipe uses everyday ingredients you probably already have in your pantry like flour, yeast, honey, olive oil, and salt. Delicious, easy to make, and convenient, you may never go back to store-bought bread again!
How to make Skillet Bread
Making skillet bread is easier than you may think. It's the perfect recipe even for beginners because you don't have to work  too much the dough, it's almost a no-knead recipe. Start by mixing water, honey, and yeast, them let it rest until frothy. Add 2 ½ cups of flour, salt, olive oil and mix with your stand mixer. Start by adding 1/4 cup of flour at a time until you'll get a supple dough, and knead for 5 minutes, then let it rise for 30 minutes. Now, roll the dough, form a ball and let it rest in cast-iron skillet for 30 minutes after you covered it with a damp towel. You can make two shallow cuts into the dough before baking, then transfer it in the oven and let it cook for up to 20 minutes.
How Long to Bake Skillet Bread
Skillet bread takes between 12 and 20 minutes to cook, depending on your oven. During the last part of the baking, be sure to check on it because it will brown up quickly.
Is No-Knead Skillet Bread Healthy?
Homemade bread is often healthier than most loaves you'll buy at your local supermarket. Skillet bread is a simple, tasty bread that you can make even healthier by using whole wheat flour.
Tips for Making the Best Homemade Skillet Bread
– The dough should be supple but not too sticky. It should come away cleanly from the sides of your stand mixer's bowl. If it's still quite sticky, add a little bit of extra flour.
– Once you've mastered the basic no-knead skillet bread, you can add other ingredients to your dough. Fresh or dried herbs, cheese, nuts, olives, and so on are all great additions.
– If it's cold in your kitchen, place the dough somewhere warm so it can rise properly.
– Brush your skillet bread with a little butter after taking it out of the oven.
How to Serve No-Knead Skillet Bread
Skillet bread is a great side for a variety of dishes. Serve it with homemade soups, stews like the beef one, or slice it and use it as a base for sandwiches or to make a grilled cheese. It's phenomenal with a generous pat of butter, jam, or even homemade Nutella.
How to Store Skillet Bread
Cover and store your skillet bread at room temperature for 5 to 7 days. Leftovers can be used to make croutons, bread pudding, or bread salad.
No-knead skillet bread is perfect for freezing. Simply put the loaf in a freezer-safe bag and freeze for up to 6 months.
Instructions
Combine water, honey, and yeast in the bowl of a stand mixer.
Allow it to stand for 10 to 15 minutes, or until it becomes frothy.
Pour in the olive oil.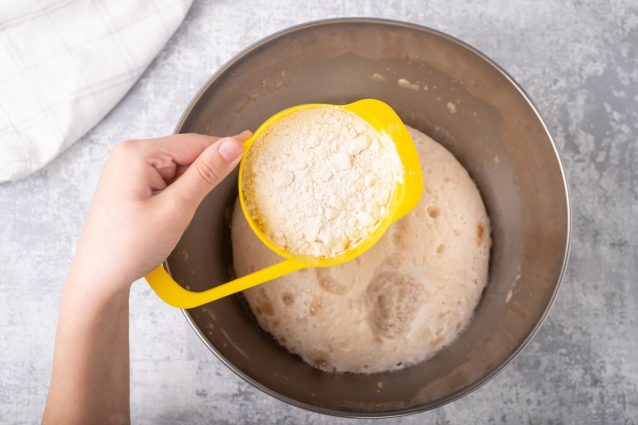 Sift in 2 ½ cups flour, and salt.
Set your stand mixer to low and begin mixing the dough. Add ¼ cup of flour at a time until a smooth, supple dough forms. Continue to knead the dough on low for another 5 minutes.
Cover the dough with a damp towel and let it rise for 30 minutes.
Roll the dough into a tight ball, then set it in a cast-iron skillet. Cover with a damp towel and allow it to rest for another 30 minutes. Preheat your oven to 400°F.
Right before baking, make two shallow cuts into the dough to form a cross shape.
Bake for 12 to 20 minutes.
Then remove from oven.
Brush skillet bread with butter.
Let it cool before slicing.
Notes
The water for your skillet bread should be about 105 to 115°F. If it's too cold, the yeast won't activate, while water that's too hot will kill off the yeast.