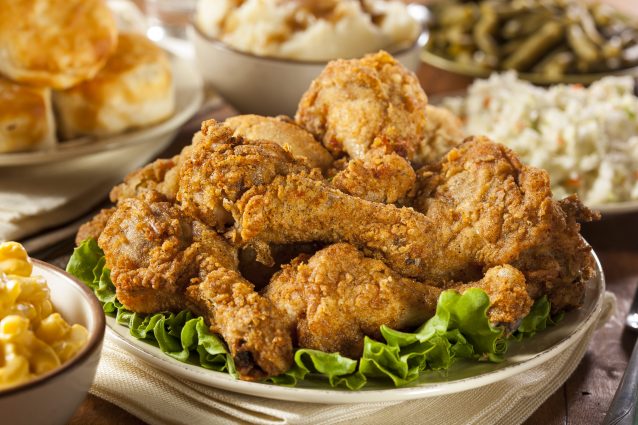 ingredients
whole fryer chicken, cut into 8 pieces

1

seasoned salt, divided

3 ½ tsp

Freshly ground black pepper, divided

2 tsp

buttermilk, divided

3 cups

All-purpose flour

3 cups

Cornstarch

½ cup

• 338 kcal

Garlic powder

1 tsp

Onion powder

1 tsp

Paprika

1 tsp

Large eggs

3

Hot sauce

1 tsp

Oil for frying

6 to 8 cups
Calories refers to 100 gr of product
If you're a fan of classic fried chicken, prepared to be amazed by Southern fried chicken. This easy, incredibly popular recipe is packed with even more flavor than regular fried chicken. The secret to Southern fried chicken is marinating in buttermilk. This makes the meat ultra-tender while also adding more flavor to each bite. With juicy, tender meat and a crispy, beautifully seasoned outside coating, there's nothing like homemade Southern fried chicken. Lightly salt and pepper the chicken then marinate it overnight in the buttermilk. The next day, you'll dip it in seasoned flour, buttermilk, and dip it again in the flour to build up a perfectly thick coating. Then all that's left to do is fry it. It's that simple! Your family will love this easy Southern fried chicken and don't be surprised if your friends ask you for the recipe!
Tips for Making the Best Southern Fried Chicken
– You don't need to use buttermilk, however, it does infuse the chicken with more flavor and helps to make the meat extra tender and juicy.
– Fry the dark meat and white meat separately.
– Use a candy thermometer to test the oil temperature before you start frying. Aim for about 350°F.
– Cook the chicken in batches to ensure it cooks evenly. Overcrowding will skew the cooking time and can lead to soggy chicken. Keep the chicken warm in an oven set to 200°F.
– Alternatively, you can fry the chicken in shallow oil in a cast-iron skillet. You can use an air fryer instead for a slightly healthier version of Southern fried chicken. Cook the chicken for 15 minutes at 375°F.
– If you prefer spicier fried chicken, feel free to use extra hot sauce.
– You can use any spices you like. Onion powder, garlic powder, paprika, salt, and pepper are all common but you can use cayenne pepper, celery salt, smoked paprika, or other spices as well.
How to Store Southern Fried Chicken
Place leftover Southern fried chicken in an airtight container lined with parchment paper. Enjoy it within 3 days. Frozen fried chicken lasts up to 12 months in the freezer. Thaw it before reheating then bake it at 400°F for 20 minutes.
How to Make Southern Fried Chicken
Season the chicken with 1 teaspoon of seasoned salt and ½ teaspoon of black pepper. Put the chicken in a bowl and cover it with 2 ½ cups of buttermilk, wrap in cling film and refrigerate at least 6 hours or overnight, if possible.
Combine the flour, cornstarch, 2 teaspoons of seasoned salt, black pepper, garlic powder, onion powder, and paprika in a shallow dish. Take the chicken out of the fridge and remove it from the buttermilk.
Whisk egg, salt, ½ teaspoon of pepper, ½ cup of buttermilk, and hot sauce in a shallow bowl.
Dip the chicken in the flour then dredge it through the egg wash and dip it in the flour again. Place the chicken on a baking tray and leave it for at least 15 minutes.
Preheat your oven to 200°F.
Pour the oil into a cast-iron skillet. Heat the oil to 350°F. Cook the chicken for 10 to 15 minutes on each side or until the chicken reaches 165°F internal temperature and the juices run clear.
Place the chicken in the oven to keep it warm while you finish frying the meat.
Notes
Use a neutral oil with a high smoke point like vegetable, canola, or corn oil.
Your chicken is done cooking when it reaches an internal temperature of 165°F.