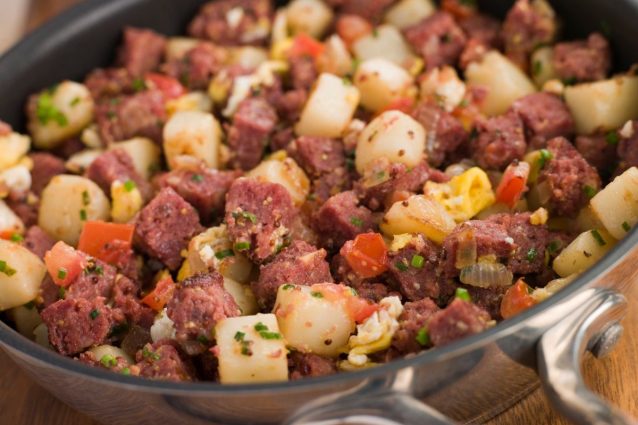 ingredients
Sweet Potatoes

1/2 pound

Beef

1/2 pound corned

White onion

1/2 cup diced

Red bell pepper

1/2 cup diced

Butter

1 tbsp

• 717 kcal

Cream

1/4 cup
Calories refers to 100 gr of product
There is nothing better than starting your day with a delicious, homemade corned beef hash. Made with sweet potatoes, this twist on a classic recipe is even better than anything you will get in a restaurant. While it may take a little bit of time to prepare, you can make a large batch of this hash and reheat it throughout the week! Really allow the potatoes, corned beef and peppers to brown in the pan for optimum flavor. If you will be eating the hash right away, try cracking an egg or two into the hash at the end of the recipe while it is still in the pan. Let the egg fry along with the hash for a perfect, complete breakfast!
Peel and dice the sweet potatoes into very small pieces. Boil for about 5 minutes, drain and set aside
In a medium sized frying pan, sauté the butter, onions and bell pepper for about 4 minutes or until the peppers begin to brown.
Add the sweet potatoes to the frying pan and allow to brown.
Add the corned beef and allow to brown in the pan which should take about 5 minutes.
Add the cream to the pan and let it cook while stirring the hash.
Once the liquid has dissolved, the hash is ready to serve! Enjoy
Tips
– Sweet potatoes can be substituted for regular potatoes as well
-Use a variety of bell peppers, red, green and yellow for a hash with some extra color!
-Skip the cream in the recipe if you are looking for a healthier version.