Sometimes we all need a little pick-me-up. It can be all too tempting to reach for your sixth cup of coffee or a super sugary energy drink when you feel your energy wane through the day. However, drinking too much coffee has negative side effects. There are healthier options out there to keep you going and help you get through your day. Stay hydrated with these easy, delicious energy-boosting drinks and avoid the caffeine crashes associated with drinking too much coffee. Here are our top picks.
1) Green Smoothie
Loaded with nutritious vegetables and fiber but with low sugar levels to help you avoid a sugar crash later in the day, a green smoothie is a killer way to start your morning. Use a blend of vegetables and fruits like kale, apples, spinach, berries, avocado, and chard to kick tiredness to the curb and help you start your day right.
2) Bulletproof Coffee
A little coffee is definitely a good thing. Not only does it taste great, but coffee has various vitamins and minerals which make it good for you – in moderation. Supercharge your morning coffee by turning it into a bulletproof coffee. Adding some grass-fed butter, MCT oil, or ghee to your coffee will help energy levels and potentially help curb cravings if you're trying to lose weight.
3) Coconut Water
Staying properly hydrated will go a long way to helping keep your energy levels up throughout the day. Drinking plenty of water is a must, but when you're tired of chugging plain old water, give coconut water a try. It's full of electrolytes, antioxidants, and other essential nutrients. If you're dehydrated, coconut water is equally effective at rehydration as sports drinks, thanks to all those electrolytes.
4) Green Tea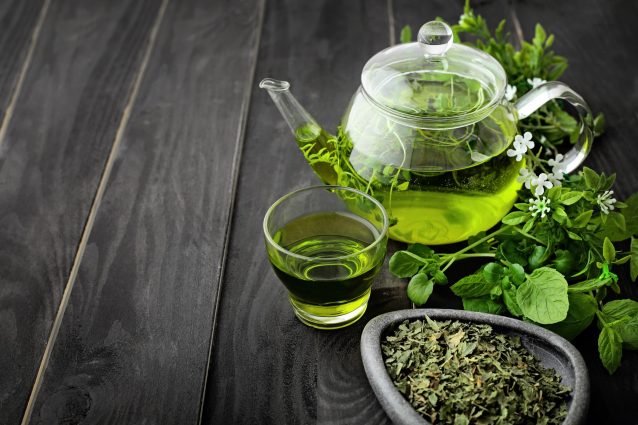 If you need a little caffeine to help avoid a mid-afternoon crash, reach for a cup of green tea instead of another coffee or energy drink. Green tea has less caffeine than coffee and is also rich in antioxidants and nutrients like vitamin C, B2, and others. You'll feel more awake without the shakiness associated with drinking too much coffee and help support your immune system, brain function, and overall health.
5) Golden Milk
If you need a little something to help you relax and unwind after a long day, try a cup of soothing golden milk or haldi doodh. Made from turmeric, cinnamon, and other soothing spices, it's a delicious drink that's packed with antioxidants that can help improve the quality of your sleep.