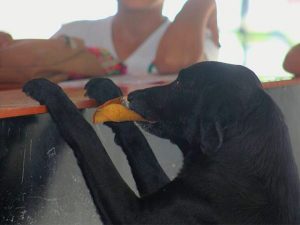 At first sight, Negro may seem intimidating to a few thanks to his shiny fur that is pitch black as well as his muscular frame. Many students at a college in Colombia, however, find him familiar and perhaps regard him as an important part of the campus.
Long ago, Negro was adopted by the Diversified Technical Education Institute of Monterrey Casanare, which gave him the chance to roam freely about the grounds. He has since become an essential part of the college, where he also reportedly lives.
It is while roaming about that Negro is fed cookies by the students and staff of the Institute. However, as time went by, his food supply may have reduced in comparison to when he was first adopted. Thus, his determination to get cookies much like he has observed people do.
Images credits: A Peña J David's Facebook post
Angela Garcia Bernal, a college staff, excitedly gave an account of Negro's very first attempt at exchanging the leaves, dried or fresh green, he ripped out of trees, for cookies.
While speaking to The Dodo, she said:
"One day, spontaneously, he appeared with a leaf in his mouth, wagging his tail and letting it be known that he wanted a cookie."
Negro's action left the store's manager shell-shocked, but it sure got him what he wanted. His intelligence has proven useful with a sales assistant sharing that the large dog, armed with a leaf, comes for cookies everyday!
This ritual has become so frequent – and indeed successful – that dear Negro now pays a visit to the store many times each day. This has caused the store to limit him to getting treats only twice each day!
Lucky Negro, not every dog gets that!
Labrador dogs are very popular and are indeed well-known for their intelligence and patience. There is, however, no denying that Negro's smartness is unique and beyond admirable.
The sight of Negro leaning against the counter offering the leaf may first leave you, an onlooker, shocked. However, your heart will immediately swell when you realize what he's up to.
Yeah, you may want to consider getting yourself a labrador like sweet Negro!