ingredients
Sandwich bread

16 slices

Scamorza cheese

100 grams

Large zucchini

2

Eggs

2

• 130 kcal

Milk

50 ml (⅕ cup)

• 49 kcal

Flour

as much as is needed

Breadcrumbs

as much as is needed

Seed oil

as much as is needed

Salt

as much as is needed

• 1 kcal
Calories refers to 100 gr of product
Zucchini fried with bread are a creative and super delicious recipe perfect for a summer appetizer. In this recipe, the sandwich bread wrap a tasty filling made with zucchini and scamorza cheese and, once fried in boiling oil, they turn into small sandwiches to be enjoyed hot and stringy. Very easy to make, zucchini fried with bread are a real delicacy; perfect as a tasty appetizer or irresistible single dish, accompanied by a nice fresh and colorful salad.
How to prepare zucchini fried with bread
Wash the zucchini, peel them and cut them in half, then with a sharp knife slice them to a height of about 3 mm (1).
Cut the scamorza cheese into slices of the same size as the zucchini (2).
Arrange 8 slices of sandwich bread on a work surface and place 2 slices of zucchini on each one (3).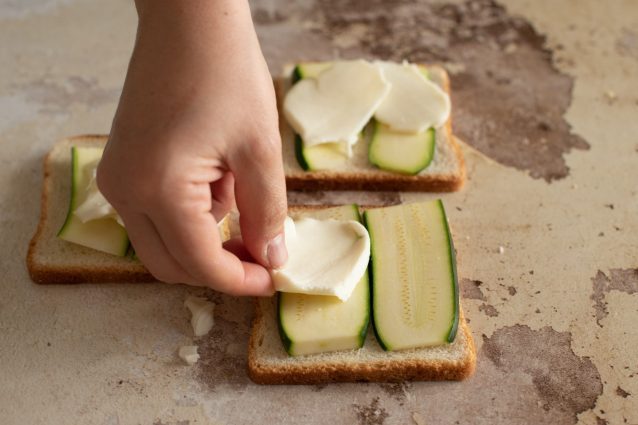 Cover with the sliced ​​scamorza cheese (4).
Close with the remaining slices of sandwich bread and press lightly (5).
Pour the flour into a deep dish and flour the sandwiches (6).
Beat the eggs with the milk and put the floured sandwiches in this mixture (7).
Once they are well covered with the egg and milk mixture, drain them with the help of two spoons (8).
Finally pass them in the breadcrumbs (9) and press well to make the breadcrumbs stick.
Heat plenty of seed oil in a pan, then arrange the sandwiches, 2 at a time, and fry over medium heat on both sides (10).
Once they are golden brown, drain the sandwiches and let them dry on kitchen paper towels. Add salt, stack them in a serving dish and serve them very hot (11).
Preservation
Zucchini fried with bread should be eaten at the moment, just fried and still boiling. If there is something left, you can close them in an airtight container and keep them in the refrigerator for a day at most. Before consuming them, pass them for a few minutes in a hot oven, just long enough to melt the filling.