ingredients
yellow cake mix

1 box

instant vanilla pudding mix

2 boxes

Whole Milk

4 cups

pure vanilla extract

1/2 tsp

semi-sweet chocolate chips

Butter

1 tbsp

• 717 kcal

Heavy Cream

1 cup
Calories refers to 100 gr of product
For an easy dessert packed with amazing flavor, try making a Boston cream poke cake. With all the same delicious flavor as Boston cream pie, this creamy, airy cake is lavished with a rich layer of chocolate that takes little effort to make. It's similar to a red velvet poke cake but requires fewer ingredients – no need for cream cheese, condensed milk, or powdered sugar here! The trick is using cake mix and instant pudding – you'll have a gorgeous, decadent creamy cake ready in no time. It's a wonderful dessert for potlucks, parties, or just because.
How to Make Boston Cream Poke Cake
Making a Boston cream poke cake is easier than you think. Start by preparing the cake mix and let it cool before poking holes that you will fill with a cream based on pudding mix, milk and vanilla. Let it cool in the fridge for one hour before you pour the chocolate glaze over the cake. Finally, place the Boston cream poke cake in the fridge for 4 hours or overnight before serving.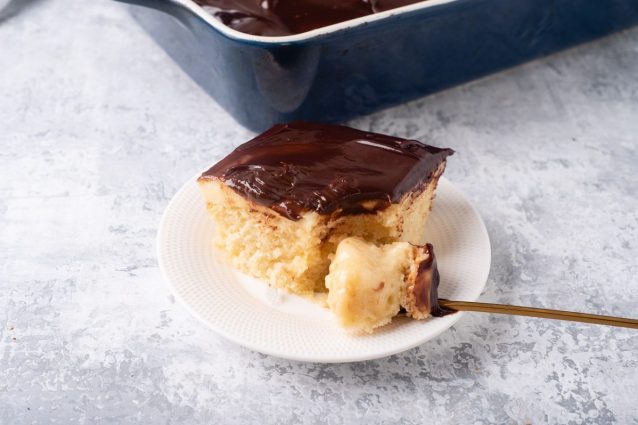 Tips for Making the Best Easy Boston Cream Poke Cake
– For a richer, creamier, slightly sweeter cake, use 2 cups of whole milk and 1 can of condensed milk.
– When poking holes in the cake, make sure to pierce the cake all the way through.
– You can easily make a keto Boston cream poke cake. To make it low-carb, substitute the cake mix for 1 ¼ cups almond flour, 1 ½ cups coconut flour, 1 ½ teaspoon baking powder, and ½ teaspoon baking soda. Instead of sugar, use a sweetener like erythritol and swap milk for an unsweetened non-dairy alternative like coconut or almond milk. Use a keto-friendly pudding mix and substitute chocolate chips for keto-friendly chocolate.
How to Store Boston Cream Poke Cake
Cover and refrigerate your Boston cream poke cake for up to 7 days.
Can You Freeze Boston Cream Poke Cake?
Absolutely! To freeze Boston cream poke cake, place it in an airtight container and enjoy it within 3 to 4 months.
Instructions
Prepare the cake mix according to the instructions on the box.
Allow it to cool.
Poke holes into the cake.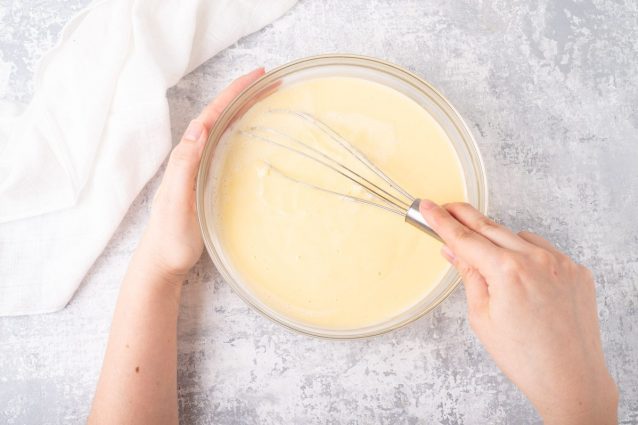 Whisk pudding mix, milk, and vanilla in a large bowl.
Immediately pour it over the cake.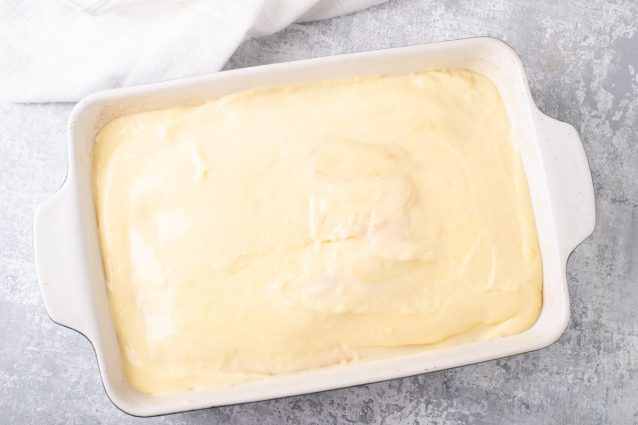 Smooth out with a spatula if necessary. Place in the fridge for 1 hour.
For the chocolate glaze
Gently heat the heavy cream over low heat. When warmed through, pour over the chocolate.
Stir occasionally until the chocolate melts.
Whisk until smooth, then let the mixture stand for 10 minutes.
Pour the chocolate over the cake.
Refrigerate the cake for at least 4 hours or overnight.
Notes
– Chocolate lovers can swap vanilla pudding for chocolate, or try other flavors for a unique spin on this tasty classic dessert.
– Check the back of your yellow cake mix to make sure you have all the ingredients on hand to make it. You may need to pick up a few extras.