ingredients
for the dough

All-purpose flour

2 1/2 cups + 2 tbsp

warm milk

2/3 cup

Sugar

4 tbsp

• 470 kcal

Active Dry Yeast

2 1/4 tsp

butter, softened

1/4 cup

Egg yolks

2

Vanilla Extract

1 tsp
for the filling

vanilla pudding

3/4 cup
for the glaze

Chocolate chips

1 cup

Butter

1 1/2 tbsp

• 717 kcal
Calories refers to 100 gr of product
A classic Boston cream pie is a sponge cake with a cream filling, topped with chocolate sauce. These Boston Cream Cupcakes are an easy dessert recipe turning the classic Boston Cream Pie into cupcakes. The fluffy vanilla cupcakes are soft and moist, with a delicious creamy filling. They are then topped with a rich chocolate ganache.
The cupcakes are made with simple pantry ingredients: flour, sugar, eggs, and a secret ingredient… yeast! The filling is a simple vanilla pudding and the glaze is a chocolate ganache made with chocolate chips. These Boston Cream Cupcakes are not your everyday cupcakes, they're made to impress!

Tips
– Make these vegan, use a recipe for vegan cupcakes, and fill them with a coconut pudding. Top with melted vegan chocolate chips.
– Make little mini cupcakes by using a mini muffin pan mold.
– If you're looking for a shortcut, use a boxed cake mix for the cupcakes. And instead of vanilla pudding, you can use chocolate caramel pudding. You can also use a custard for a filling.
– To fill the cupcakes: first, you can cut a hole in the top of the cupcake, and then use an apple corer to further cut the whole. Use a piping bag to fill the cupcakes with the pudding.
– Instead of the chocolate ganache dip, you can also pipe chocolate frosting on top of the cupcakes.
How To Store Boston Cream Cupcakes
The cupcakes can be stored in the refrigerator for up to 5 days. Allow to come up to room temperature before serving.
More Recipes You'll Like
Here are a few more cupcake recipes you should try:
How To Make Boston Cream Cupcakes
Mix warm milk, yeast, 2 tbsp sugar, and 1 tbsp flour, set aside for 5 minutes.
In a big bowl, combine butter, egg yolks, vanilla, and 2 tablespoons sugar, add the yeast mixture.
Combine with flour, knead the dough until it forms a ball.
Let rise for 1 hour.
Divide dough into 6-8 parts.
Form each part into a ball and place it in a greased muffin tin.
Cover and let it rise for 45 minutes.
Bake at 400°F/200°C for 15-20 minutes, let them cool. Using a piping bag, fill each muffin with vanilla pudding.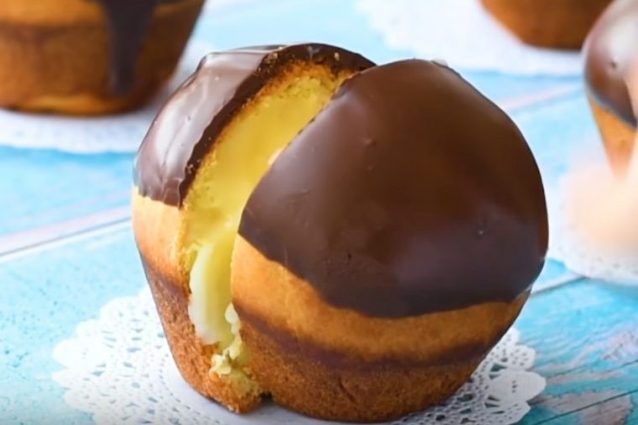 Microwave chocolate chips with butter until combine, and dip the tops of each muffin into the chocolate mixture.
Notes
The cupcakes and the ganache can be frozen. Allow to thaw in the fridge and fill with the pudding before serving.
To freeze the Boston Cream Pie Cupcakes, allow them to cool completely and store in an airtight container for up to 3 months.